'Avengers 4' Will Feature The Wasp, Confirms Evangeline Lilly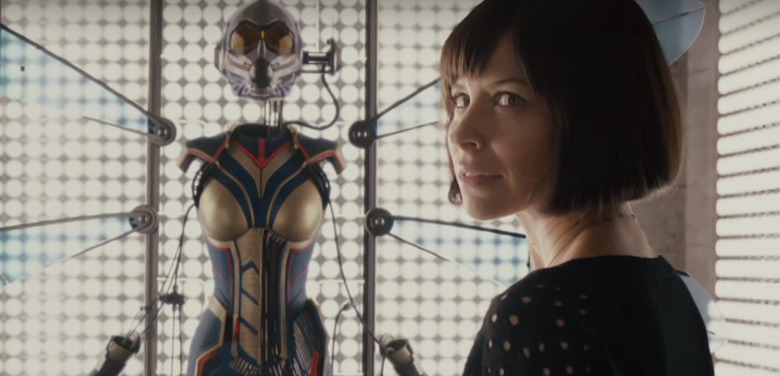 We know a whole lot of familiar faces will be returning for 2018's Avengers: Infinity War, and the list just keeps growing as more and more actors confirm their involvement. But one you can count out is Hope van Dyne, first introduced in Ant-Man. In an interview, Evangeline Lilly stated that the Wasp will not appear in Avengers: Infinity War. She will, however, report for Avengers 4 after that, due out in 2019.
Lilly spilled the beans in a chat with Blastr. First, she offered a status update on Ant-Man and the Wasp, which arrives in 2018.
Right now, an initial script has been created, but it has not been approved by the higher powers that be, by [Kevin] Feige. So I haven't seen it yet, I haven't actually seen the script. I have talked to Peyton [Reed] about where they're heading and what they want to focus on. I'm excited because it's essentially going to be the origin of the Wasp. Of course, we're going to see the Wasp for the first time take on the mantle and put on the suit and fly about and do her thing.
The actress then went on to talk Avengers: Infinity War and Avengers 4:
And then following that one, there's an Avengers series coming out, it's a two-parter. The Wasp won't be in the first part, she'll be in the second part because they really want to preserve that reveal for Ant-Man and the Wasp so they can give it its due time.
So basically, it's a matter of timing. While we've already met Hope van Dyne, we haven't seen her in the Wasp persona. The closest we've gotten is the ending of Ant-Man, when Hank Pym (Michael Douglas) leads her into a secret chamber and shows her the Wasp suit. She looks thrilled and responds that it's "about damn time," but we never see her try on the suit or anything like that. So Marvel wants some more time to give her superheroic alter ego a proper introduction before throwing her in with the rest of the Avengers.
It's the same reason the Wasp had to sit out this year's Captain America: Civil War, which did feature Hope's buddy Scott Lang (Paul Rudd). "She was included in early versions of Civil War but there are so many characters in Civil War that we didn't want to do her a disservice," said Feige last year. "We haven't seen her as Wasp and we don't want to rob the opportunity of seeing her in the outfit for at least almost the first time, and seeing her dynamic with Scott in a way it could play out, so we're saving it."
All of this may be a bit disappointing for fans who've been eager to see more of the Wasp, and watch her interact with the other Avengers, but hopefully Ant-Man and the Wasp will be worth the wait. The title is a strong indication that Hope will have much more to do in that movie than she did in the first Ant-Man, so we already seem to be off to a good start.
Avengers: Infinity War opens May 3, 2018, followed two months later by Ant-Man and the Wasp on July 6, 2018. Avengers 4, which does not yet have an official title, arrives May 3, 2019.