Marvel Has Plans For 'Blade,' According To Fellow Vampire Hybrid Kate Beckinsale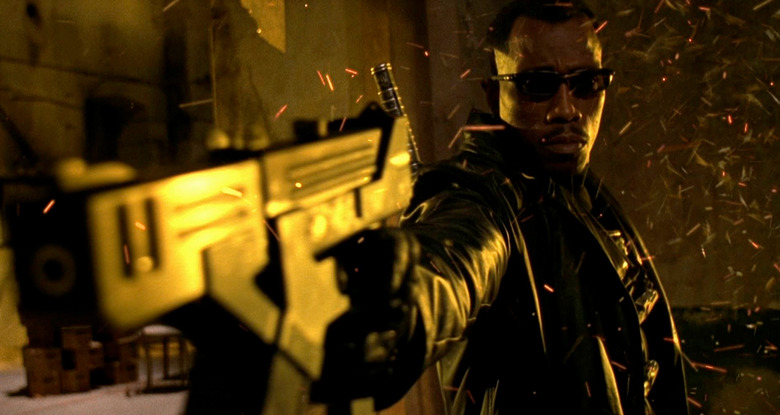 Over the past couple years, there has been plenty of discussion about the future of Marvel's vampire hybrid character Blade. Brought to the big screen before the comic book craze truly began with X-Men in 2000, Blade was played by Wesley Snipes for three films, including one directed by Guillermo del Toro and one starring future comic book star Ryan Reynolds. But since then, fans have been hoping for more.
We've heard rumblings of Blade 4 with Wesley Snipes coming back as the titular character, a potential Netflix TV series from Marvel Studios (who reacquired the rights to the character in 2013) and even a movie following Blade's daughter Fallon Grey. Now confirmation of some kind of Marvel project comes from a surprising source: Underworld star Kate Beckinsale.
Find out about the potential Marvel Studios Blade plans after the jump.
You might be wondering why Kate Beckinsale would know anything about the development of Blade as a property at Marvel Studios since she hasn't starred in any of their movies and has no ties to the Blade franchise. Well, while she was appearing at New York Comic-Con to promote Underworld: Blood Wars (watch the new trailer here), someone asked if there was any chance of seeing a crossover involving her vampire hybrid character Selene and Blade. Here's what she had to say:
"No. We had that idea. No. They're busy. They're doing something with Blade."
So there was an idea to have Selene and Blade appear together at some point, but it sounds like Marvel wasn't interested because they had other plans for the Day Walker. Sadly, we don't know if this means there's another Blade movie in development with Wesley Snipes or some kind of reboot of the characterbeing planned in movie or TV series form. In addition, this also gives us no indication as to how soon Marvel intends to do anything with Blade.
Now that Marvel's Agents of SHIELD has brought Ghost Rider into the fray for the fourth season, this opens up a whole new door for characters like Blade to make sense in the current iteration of the Marvel cinematic universe. It probably wouldn't be hard to reconcile the existence of the events of the Blade franchise with the events of Marvel Studios movies, but I can't imagine Marvel keeping the big screen mythology intact. Anyway, stay tuned to see what Marvel plans to do with Blade.
What would you like to see Marvel Studios do with Blade?