'Trollhunters' Trailer: Being A Kid Is Tough When You Have To Fight Trolls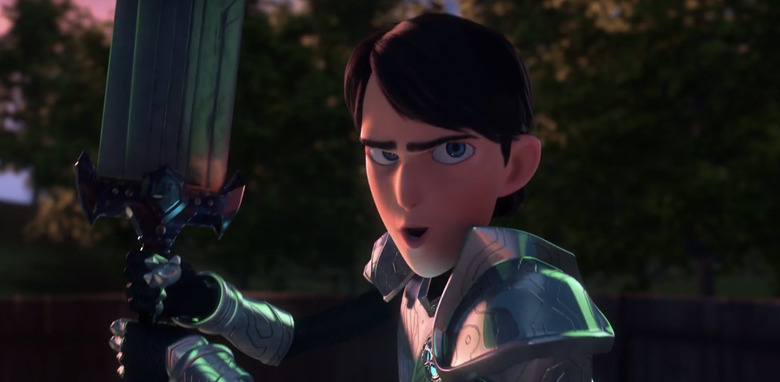 We may receive a commission on purchases made from links.
At the end of last month, Netflix unveiled the first photos from their animated series Trollhunters, created by Guillermo del Toro and based on the young adult novel of the same name that he wrote with Daniel Klaus. Now the first trailer for the DreamWorks Animation show has debuted online, and it actually looks pretty decent.
Watch the Trollhunters trailer after the jump.
The story is rather derivative as it features a kid thrust into the center of a conflict that has been going on for centuries between good trolls and bad trolls. However, the characters are extremely likeable, and the series has a feel along the lines of How to Train Your Dragon mixed with a bit of ParaNorman.
My only problem with computer animated series is that the animation itself feels cheap. Obviously the animation isn't going to be nearly as detailed and stunning as a feature film because they have a smaller budget to work with, but it can be distracting sometimes. Thankfully, technology has made it that even cheap animation still looks pretty decent nowadays.
It's a little bittersweet to hear Anton Yelchin's unmistakable voice coming out of the lead character Jim, and if the series turns into something that viewers enjoy, it's going to take some effort to find someone to replace Yelchin in that role. The voice cast also includes Charlie Sexton as Jim's portly friend Toby and Kelsey Grammer as Blinky, the troll who introduces Jim to the hidden world beneath the town of Arcadia.
Here's the official synopsis of the series with more details:
When ordinary teenager Jim Lake Jr. stumbles upon a mystical amulet on his way to school one morning, he inadvertently discovers an extraordinary secret civilization of mighty trolls beneath his small town of Arcadia. Strong-willed and seeking adventure but wholly unprepared for the responsibilities thrust upon him, Jim is forced to take on the exalted mantle of Trollhunter, sworn to protect the good trolls from powerful enemies bent on revenge. The first human ever to hold the honor, Jim abruptly goes from fighting his way through the daily mayhem of high school to joining a war that has raged for centuries, a conflict that now threatens all of mankind and troll-kind alike.
Accompanied by his closest human friends and a few key troll allies, the courageous fifteen-year-old must plunge headlong into a fantastical world of astonishing creatures, glorious cities, and fierce enemies desperate to destroy him. Suddenly destined to play a crucial role in an ancient battle of good and evil with stakes that couldn't be higher, Jim is determined to save the world — right after gym class. DreamWorks' Trollhunters is a heroic tale that uncoils with ambitious, complex storytelling and stunning visuals that raise the bar for animated series, creating an event series that will thrill the entire family.
Trollhunters hits Netflix just before Christmas on December 23.