'The Great Wall' Trailer: Matt Damon Discovers The Real Reason The Great Wall Was Built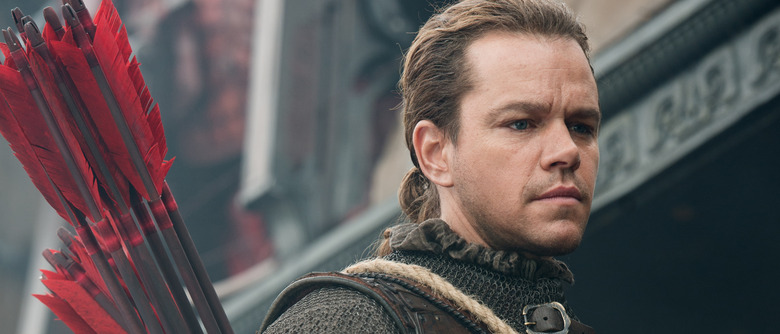 Everyone's familiar with the Great Wall of China, but far fewer people know why it was built in the first place. Fortunately, the new The Great Wall trailer is here to tell us. Forget everything you've read in your history books about trade and invasions and whatnot — In Zhang Yimou's upcoming fantasy epic, Matt Damon discovers the real reason it exists is to keep out the monsters. Not "monsters" as in bad people; actual, literal monsters like you might see in Godzilla or Pacific Rim. Watch The Great Wall trailer below. 
No surprise Zhang's made a movie that's bursting with color and stuffed to the gills with grand, sweeping action. Plus, the supporting cast includes Jing Tian, Pedro Pascal, Willem Dafoe, Lu Han, and Andy Lau. Unfortunately, however, The Great Wall has already attracted criticism for leaning into "white savior" tropes, what with Damon playing the hero of a film set in ancient China. But Zhang has defended the casting, trying to reassure audiences that the dynamic isn't what you might expect:
In many ways The Great Wall is the opposite of what is being suggested. For the first time, a film deeply rooted in Chinese culture, with one of the largest Chinese casts ever assembled, is being made at tent pole scale for a world audience. I believe that is a trend that should be embraced by our industry. Our film is not about the construction of the Great Wall. Matt Damon is not playing a role that was originally conceived for a Chinese actor. The arrival of his character in our story is an important plot point. There are five major heroes in our story and he is one of them — the other four are all Chinese. The collective struggle and sacrifice of these heroes are the emotional heart of our film. As the director of over 20 Chinese language films and the Beijing Olympics, I have not and will not cast a film in a way that was untrue to my artistic vision. I hope when everyone sees the film and is armed with the facts they will agree.
Does Zhang have a point, or is this just PR blather intended to smooth over a controversy? We'll see for ourselves when The Great Wall opens in theaters February 17, 2017.
Starring global superstar Matt Damon and directed by one of the most breathtaking visual stylists of our time, Zhang Yimou (Hero, House of Flying Daggers), Legendary's The Great Wall tells the story of an elite force making a valiant stand for humanity on the world's most iconic structure. The first English-language production for Yimou is the largest film ever shot entirely in China. The Great Wall also stars Jing Tian, Pedro Pascal, Willem Dafoe and Andy Lau.