Here Comes An 'Eternal Sunshine Of The Spotless Mind' TV Series No One Asked For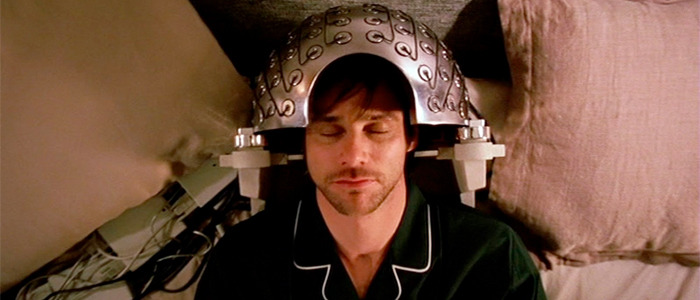 There are countless films being turned into TV shows right now. Some of the more recent projects in development include shows based on The Departed and Let The Right One In, and now one more revered film will be brought to the small screen.
Eternal Sunshine of the Spotless Mind is one of the best movies of the 21st century (not to mention one of my favorites of all time) and now the film's producer is in early development to turn the film into a TV series.The Hollywood Reporter has word of Anonymous Content's Steve Golin working on an Eternal Sunshine of the Spotless Mind TV series that will turn Michel Gondry's powerful, wholly unique romance into a TV series. Chuck and Forever writer Zev Borow is getting close to a deal to adapt the script originally written by the brilliant Charlie Kaufman.
If you somehow haven't seen Eternal Sunshine, the film follows an estranged couple as Joel Barish (Jim Carrey) has all memories of his ex-girlfriend, Clementine Kruczynski (Kate Winslet), erased by a company called Lacuna Inc. What we see is the crumbling of their relationship play out in reverse from inside the mind of Joel, starting from their break-up all the way back to their meet cute. The way the story plays out is simultaneously depressing and hopeful, especially when you realize that what happened in the beginning of the movie isn't exactly what it seemed.
As of now, no details on how the film will be adapted for television are known, but Michel Gondry and Charlie Kaufman are not involved at all, and that's enough to keep me disinterested for the time being. The only light at the end of the tunnel may be that True Detective executive producer Richard Brown is on board the series, which could help. Plus, let's not forget that Anonymous Content not only produced True Detective but also the recent hit series Mr. Robot.
Personally, this movie is untouchable to me, and I'm not entirely sure how the spirit of this wonderful film is going to be captured in a TV series. The concept of people having their memories removed has the potential for a story that can go in a variety of directions, but part of what makes the original movie so great is the quirky, surreal way in which the memories of Joel are depicted. But I'll do my best to keep an open mind and wait to see what the series has to offer before I pass full judgment.