'Power Rangers' Teaser Trailer: The Breakfast Club Turns Into Superheroes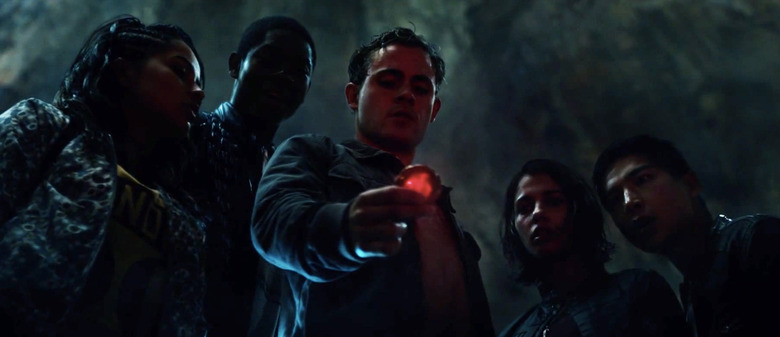 Today brought the first look at the latest attempt to bring Power Rangers to the big screen straight from New York Comic-Con, and this was even more of a tease than we were expecting. While the first teaser trailer gives us the origins of the teenage defenders of Angel Grove, who all feel like they have personalities lifted straight from The Breakfast Club, it features exactly zero footage of the titular heroes suited up in action.
Watch the Power Rangers trailer after the jump.
Honestly, I don't mind that we don't get to see the Power Rangers in action just yet. But I think at least one quick shot of at least one of the Rangers in their power suit would have been a nice payoff after watching them find the power coins and discover their new abilities in what is essentially an abridged version of Chronicle.
The tone is a little grittier than I was expecting, showcasing a story that is about as grounded as it can be considering the subject material. It certainly feels melodramatic, especially with all the high school footage, but it actually looks a little better than I was anticipating. As of now my only concern is just how good the visual effects are going to look, because from what we've seen in images so far, whether it's the recent character posters, the previously released Zord posters, or a still from the movie, these suits don't look all that impressive.
At least we get to see Elizabeth Banks as Rita Repulsa briefly, who apparently has the ability to enter the minds of the new Power Rangers. But it's not enough to judgge how the rest of her performances is going to turn out.
Dean Israelite directs Power Rangers featuring Dacre Montgomery, RJ Cyler, Naomi Scott, Becky G and Ludi Lin as the Red, Blue, Pink, Yellow and Black Rangers with Bryan Cranston as their leader Zordon and Bill Hader voicing his robot sidekick Alpha 5.
Saban's Power Rangers follows five ordinary high school kids who must become something extraordinary when they learn that their small town of Angel Grove – and the world – is on the verge of being obliterated by an alien threat. Chosen by destiny, our heroes quickly discover that they are the only ones who can save the planet. But to do so they will have to overcome their real-life issues and band together as the Power Rangers before it is too late.
Power Rangers hits theaters on March 24, 2017.