'The Take' Trailer: Idris Elba Is Reckless And Irresponsible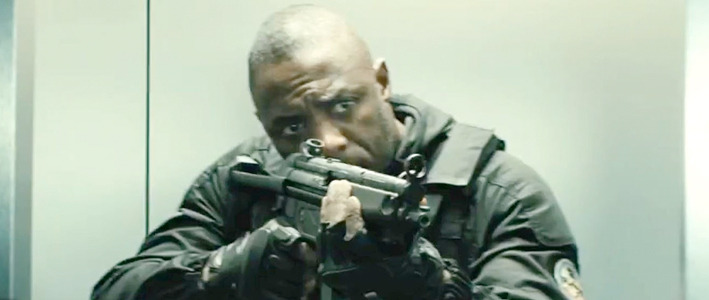 Earlier this year, there was an action thriller called Bastille Day slated to hit theaters in February across the pond. But then the terrorist attacks in Paris last fall resulted in a delay of the movie until April. The movie has already opened in a bunch of international territories, but during that time the terrorist attacks in Nice, France which happened on the titular holiday have forced the movie to have a new title here in the United States.
The Take is now the name of the new action thriller starring Idris Elba, who proves perfectly why he would make a great James Bond. We had previously already gotten a look at the film from the international trailer, but now a new The Take trailer has arrived for the domestic release this fall.
The film is directed by James Watkins (of horror films Eden Lake and The Woman in Black), even though it feels like it's directed by someone like Pierre Morel due to the lackluster jokes spaced throughout the superior action. The teaming of Idris Elba with Game of Thrones star Richard Madden doesn't feel quite right, but maybe it's just the tone of the trailer that makes their chemistry feel clunky.
At the very least, we'll get to see Idris Elba kicking a lot of ass, and that's something that's always entertaining. It doesn't feel like there's all that great of a movie surrounding that appealing element. As Empire noted in their review, "It rarely makes sense – the script vastly overestimates the power of the hashtag as a weapon of mass destruction – but you're never bored." As the Fast & Furious franchise has proven, sometimes that's all you need.
Michael Mason (Richard Madden) is an American pickpocket living in Paris who finds himself in the hands of the CIA when he steals a bag that contains more than just a wallet. Sean Briar (Idris Elba), the field agent on the case, soon realizes that Michael is just a pawn in a much bigger game and is also his best asset to uncover a large-scale criminal conspiracy in the heart of the police force.
Going against commands, Briar recruits Michael to help quickly track down the source of the corruption. As a 24hr chase ensues, the unlikely duo discover they are both targets and must rely upon each other in order to take down a common enemy.
The Take is slated to hit theaters and VOD on November 18.