'The Monster' Trailer: Zoe Kazan's Late Night Road Trip Takes A Nasty Detour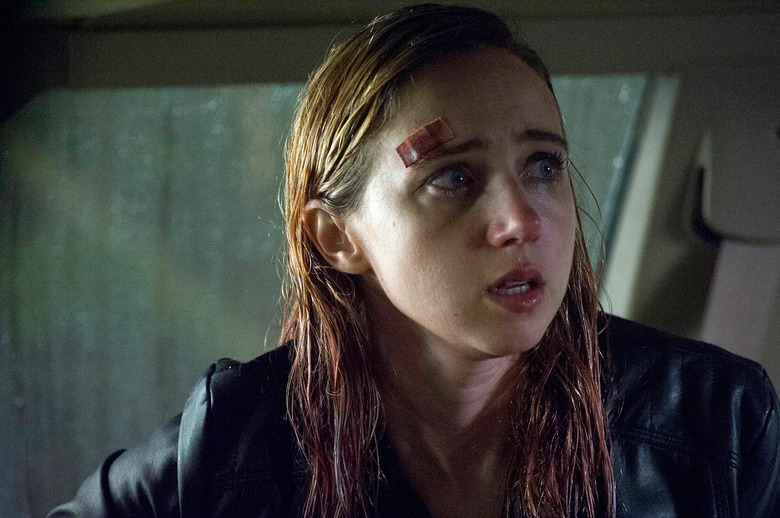 Bryan Bertino made a memorable debut with his 2008 horror film, The Strangers. There are some genuinely unsettling sequences in that notable box office hit. Then it took six years for us to see another movie from Bertino. His sophomore effort was 2014's Mockingbird, a found-footage horror movie released on VOD. Unlike his feature debut, Mockingbird didn't find a large audience, but it also looked like a far less commercial movie. Bertino's next horror film is The Monster, which stars Zoe Kazan (What If), Ella Ballentine, and The Strangers' Scott Speedman.
Below, watch The Monster trailer.
Zoe Kazan plays a divorced mother taking her daughter Lizzy (Ballentine) to see her father. Some kind of emergency forces them to leave late at night when it's rainy and the roads are empty. When a dog is spotted on the road, Kathy (Kazan) tries to avoid hitting the animal and ends up crashing the car, leaving her and her daughter stranded in the middle of nowhere. The good news is, they're not alone because there's a vicious, ghastly monster that has them surrounded.
Here's The Monster (originally titled There Are Monsters) trailer:
This trailer starts off great with some eerie music, Kazan whispering "not a soul in sight," the sound of the rain, and the quickness of the crash. There's just a nice sense of dread right from the start. Not until a minute into the trailer it's clear this is a monster movie, and it looks like a pretty good one, too. Kazan hasn't starred in a horror movie before, but we can probably expect a performance from her that'll help keep The Monster grounded in reality. She's such a talented actress, so 90 minutes of her fending off a monster should be enticing.
Here's the official synopsis:
Acclaimed horror filmmaker Bryan Bertino (The Strangers) directs this suspenseful and scary new film, in which a divorced mother (Zoe Kazan) and her headstrong daughter must make an emergency late night road trip to see the girl's father. As they drive through deserted country roads on a stormy night, they suddenly have a startling collision that leaves them shaken but not seriously hurt. Their car, however, is dead, and as they try in vain to get help, they come to realize they are not alone on these desolate backroads—a terrifying evil is lurking in the surrounding woods, intent on never letting them leave...
A chilling and tension-filled experience, The Monster pits two ferociously strong women against one of the scariest and most shocking monsters you'll ever see. It will be a battle no one will forget.
The Monster is now available on DirecTV and opens in limited release on November 11th.