New 'Wolverine 3' Photo Shows How Much Professor X Has Aged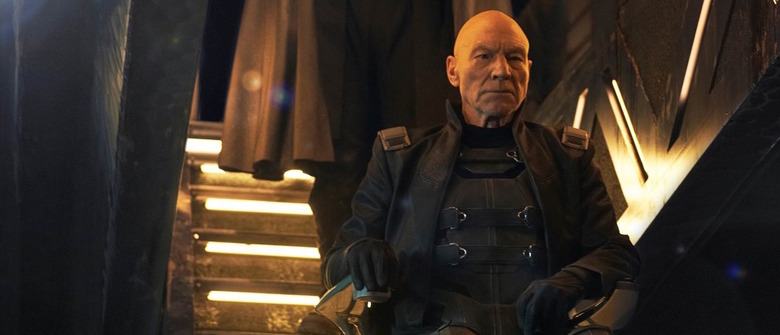 This week has been chock full of updates regarding Wolverine 3. After Hugh Jackman promised a reveal regarding the X-Men spin-off sequel earlier this week, we got a teaser poster with an official title and some intriguing plot details. The film is called Logan, and it will see the mutant known as Wolverine aged, not healing as quickly or efficiently as he used to, and he's drinking all the time. In addition, we heard that he's been taking care of an aging Professor X, whose powers have become unstable as well.
To follow up those details, we now have our first official look at Patrick Stewart as Professor X in a new Logan photo. It's clear he's not doing well in the year 2024, and he might even be losing his sight.
Here's the photo that director James Mangold posted to Twitter:
Taken w/ Leica S 007 Summicron 100mm, ISO 3200 1/250 ƒ3.4 — by JM pic.twitter.com/Jhwsf7uBhv

— Mangold (@mang0ld) October 6, 2016
In addition to Professor X's powers fading, his memory isn't what it used to be either. Sometimes he even forgets who Logan is, even though he's been taking care of him for awhile. Plus, if you look at the photo above, his left eye looks a little cloudy, indicating that he might be losing some of his sight as well. Adding to a change in his appearance, he's no longer wearing those finely tailored suits, opting to wear something that your grandfather might wear while watching JAG.
I wouldn't be surprised if the Patrick Stewart version of Professor X died for good this time, especially since this is supposed to be his last turn in the role. This is supposed to be a send-off for Hugh Jackman as Wolverine as well. So this could prove to be a very emotional sequel in the X-Men franchise, not to mention having a drastically different and darker tone than the previous entries in Wolverine's solo outing.
Beyond the recently revealed details, all we know is that Essex Corp. is involved and Mr. Sinister will be the villain. There have also been rumors of the female version of Wolverine, known as X-23, having a role as well. Here's hoping we learn more about the movie soon and get a look at Boyd Holbrook, Richard E. Grant, and Elizabeth Rodriguez in the movie too.
With a release date set for early next spring on March 3, 2017, we should be getting a teaser trailer soon, so stay tuned.