'Enchanted 2' Gets 'Rock Of Ages' Director Adam Shankman; Amy Adams Returns To Star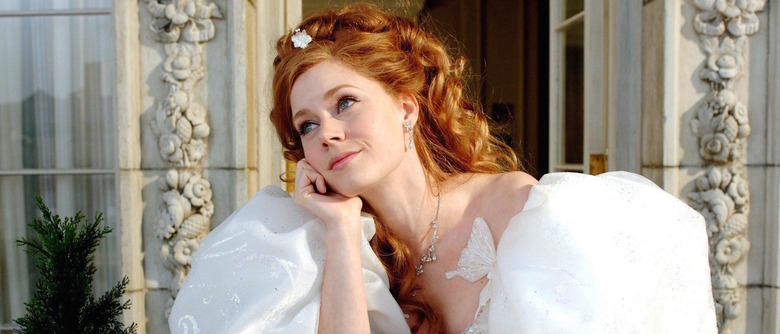 Before there were live-action remakes of Cinderella and Beauty and the Beast and every other fairy tale in the Disney stable, there was Enchanted. The 2007 film was an affectionate sendup of Disney's animated catalogue, plucking a stereotypical Disney cartoon princess played by Amy Adams and dropping her in the real world. The film was a huge hit, so naturally it wasn't long before speculation began swirling about a possible sequel.
But it's been a while since we've had any real updates on that front, which is why we're intrigued to see that today, the sequel has finally taken a big step forward. Adam Shankman, the director behind Hairspray and Rock of Ages, is now in talks to direct the Enchanted sequel, which is now going by the title Disenchanted. Adams is expected to return as Giselle. 
The Hollywood Reporter broke the news about the Enchanted 2 director. Disney has had an Enchanted sequel on its to-do list for quite some time. Even before the original film hit theaters, Disney was already smelling franchise potential. Development got underway in earnest around 2010, and Anne Fletcher (The Proposal) was attached to direct. But progress has been slow. The last time we got an update was last year, when we heard Disney was still polishing the script. With Shankman now on board, though, the studio is hoping to start shooting in summer 2017.
The original Enchanted was directed by Kevin Lima and featured music by Alan Menken (including the irresistible "That's How You Know"). It opened in the animated fairy tale kingdom of Andalasia, where Giselle (Adams) was looking forward to marrying her true love Prince Edward (James Marsden). Sadly, their plans are disrupted when his evil queen stepmother (Susan Sarandon) shoves Giselle down a well, which sends her hurtling into the real (live-action) world of New York City. There, she meets a divorce lawyer named Robert (Patrick Dempsey), who's engaged to marry Nancy (Idina Menzel).
The film was a hit, grossing $340 million worldwide and earning strong reviews. It pulled off the neat trick of parodying and updating familiar fairy tale tropes without devolving into cynicism or snark. Adams' fully committed performance did a lot to help hit that sweet spot, as she played Giselle as sweet and naive but also strong and smart.
Shankman's resume seems to make him a good fit for Disenchanted. He's done musicals like Rock of Ages, Hairspray, and episodes of Glee; romances like The Wedding Planner and A Walk to Remember; and family comedies like The Pacifier and Bedtime Stories. Disenchanted does not yet have a release date, but I wonder if it could claim one of the 2018 or 2019 dates Disney has already set aside for its live-action fairy tales.