'Valerian And The City Of A Thousand Planets' Poster And Images Tease Luc Besson's New Sci-Fi Epic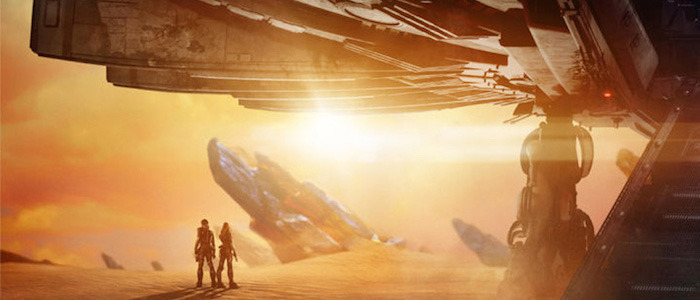 Luc Besson's Valerian and the City of a Thousand Planets wasn't on my radar until our own Peter Sciretta came back from Comic-Con this summer with many nice things to say about the first footage from the film. I run hot and cold with Besson (there are days where I think he's a genius and there are days where I think his reach exceeds his grasp), but tell me that the guy who made The Fifth Element is making another science fiction action movie and I'll just ask for a release date and clear my schedule.
A batch of new photos and a poster for Valerian and the City of a Thousand Planets have arrived online ahead of the film's booth at the New York Comic-Con this week and they're just wild enough to further hold my attention.
The Valerian NYCC booth is open today and will remain open through Sunday. It gives attendees a chance to watch early footage from the film, check out props, and examine issues of the original French comic book series written by Pierre Christin and illustrated by Jean-Claude Mézières. Besson and Mézières and will both be in attendance and will sign posters from the film today. So if you happen to be at NYCC, you now have a mission.
And here's the first poster from the film, which manages to avoid the most irritating movie marketing trend by not filling every single empty space with random debris while also embracing the second most irritating movie marketing trend by referring to Luc Besson as a "visionary." We have reached peak visionary. The word has lost all meaning.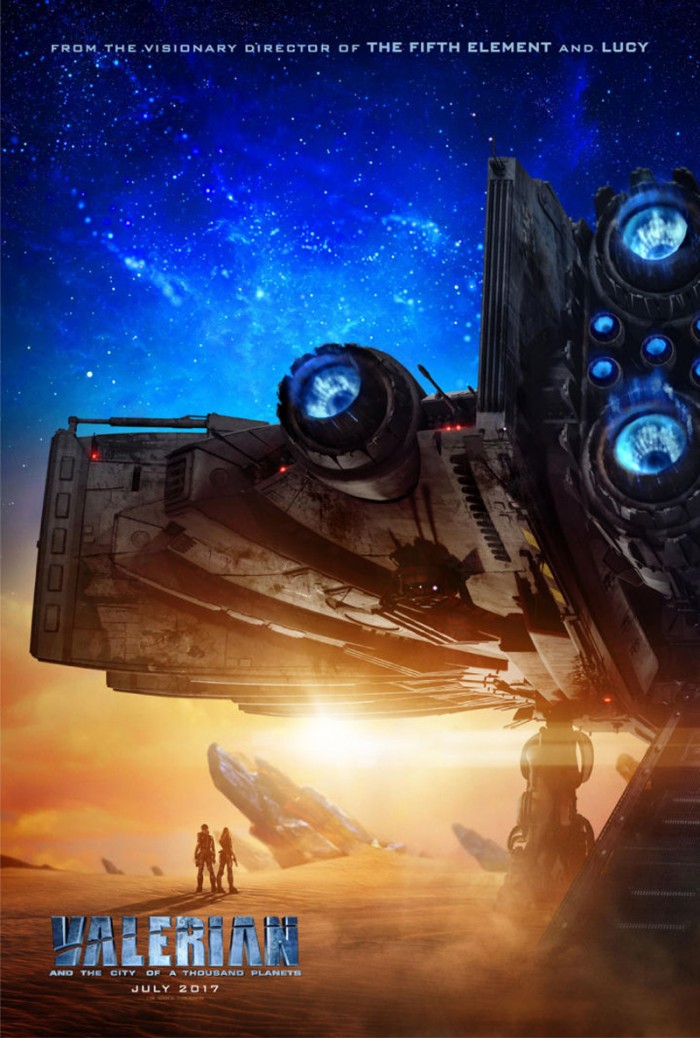 And here are the new stills, which feature Dane DeHaan (still desperately in need of redemption after The Amazing Spider-Man 2) and Cara Delevingne (currently in need of redemption after Suicide Squad) as Valerian and Laureline, a sci-fi buddy cop duo tasked with solving a mystery in Alpha, a sprawling city that is home to countless alien species from across the galaxy (hence the title of the film). Also amongst the stills is a look at one of those species. There's no use in judging these guys until we see them in action, but I appreciate any alien design that diverges from the strictly humanoid.
Valerian and the City of a Thousand Planets is set to open on July 21, 2017. Here's the synopsis:
Valerian (Dane DeHaan) and Laureline (Cara Delevingne) are special operatives for the government of the human territories charged with maintaining order throughout the universe. Valerian has more in mind than a professional relationship with his partner, blatantly chasing after her with propositions of romance. But his extensive history with women, and her traditional values, drive Laureline to continuously rebuff him.
Under directive from their Commander (Clive Owen), Valerian and Laureline embark on a mission to the breathtaking intergalactic city of Alpha, an ever-expanding metropolis comprised of thousands of different species from all four corners of the universe. Alpha's seventeen million inhabitants have converged over time- uniting their talents, technology and resources for the betterment of all. Unfortunately, not everyone on Alpha shares in these same objectives; in fact, unseen forces are at work, placing our race in great danger.