'John Wick: Chapter 2' Teaser Arrives Before The Full Trailer Debuts At NYCC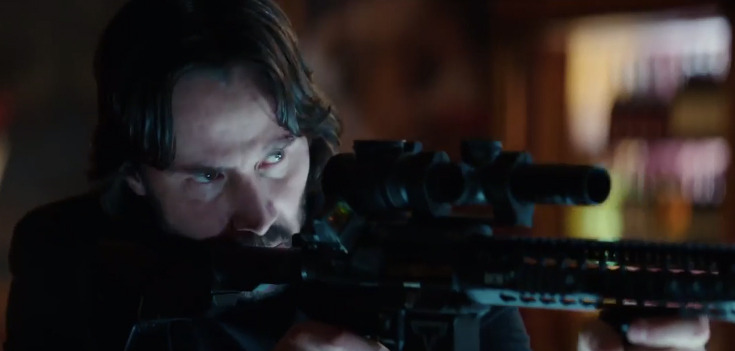 This weekend brings New York Comic-Con to the Big Apple, and while it's not quite as big as San Diego Comic-Con over the summer, there will still be some goods that you'll want to pay attention to. More specifically, Lionsgate will be unveiling a sneak peek at footage from John Wick: Chapter 2, the highly anticipated sequel to the action thriller starring Keanu Reeves.
Before the John Wick 2 trailer premieres this weekend, the studio has delivered a tease of the trailer. Honestly, we're not big fans of an advertisement for an advertisement, but we just want to make sure you know to stay tuned this weekend for the full trailer when it arrives. So watch the John Wick 2 teaser below if you feel like it.
It's just about 10 seconds of footage, and surely this is the bit that comes before we get a montage of Keanu Reeves kicking ass as John Wick. Why is he kicking ass this time? Well, we know that his new dog isn't getting killed, but otherwise we're not sure what lights the Wick this time.
In addition to Keanu Reeves looking dashing and deadly in a fine, tailored suit, we get to see Guardians of the Galaxy star Peter Serafinowicz as the man responsible for making it look so good. Hopefully he has a larger part to play in the action thriller like Lance Reddick in the first movie, who is also returning for the sequel.
The return of John Wick will also bring back John Leguizamo and Ian McShane from the first film as well as new cast members like Laurence Fishburne, Ruby Rose, Common, Peter Stormare and Riccardo Scamarcio. How much of them will we see in the first John Wick 2 trailer? We'll find out this weekend when the trailer premieres at NYCC on Saturday afternoon during Lionsgate's panel (which will also include the first footage from Power Rangers) from 2pm to 3pm Eastern time.
Keanu Reeves returns in the sequel to the 2014 hit as legendary hitman John Wick who is forced to back out of retirement by a former associate plotting to seize control of a shadowy international assassins' guild. Bound by a blood oath to help him, John travels to Rome where he squares off against some of the world's deadliest killers.
John Wick: Chapter 2 hits theaters on February 10, 2017.