'The Edge Of Seventeen' Red Band Trailer: Why Is Hailee Steinfeld So Awkward?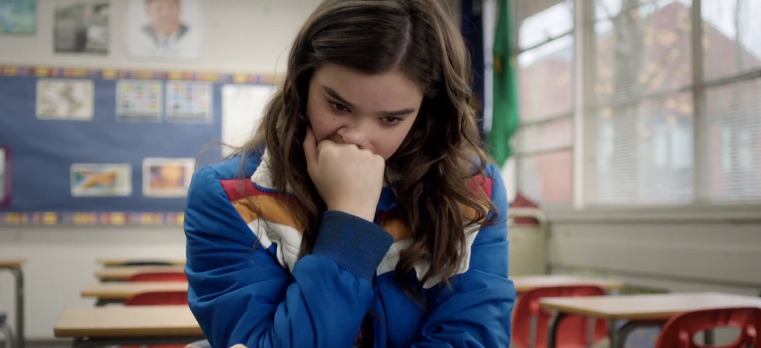 After making its debut at the Toronto International Film Festival last month, the new coming-of-age comedy The Edge of Seventeen is heading to theaters this fall, and it looks like we could have another future classic on our hands.
The film stars Hailee Steinfeld coming into her formative years, full of hormones and awkward as hell, and just trying to survive high school. That sounds like it could be any old high school comedy, but there appears to be an authenticity and originality to this one that makes it feel superior to the usual movies that fall into this category. Watch the new red band Edge of Seventeen trailer, but beware of some salty language.
The movie was originally slated to arrive at the end of September, but it was pushed back to November instead. This appears to be because the movie got a huge vote of confidence from early screenings and there might be the potential for some awards attention. That's not surprising after the reviews that came out of TIFF were positively glowing.
Jon Frosch at The Hollywood Reporter says, "Fast, full-hearted and graced with a beautifully modulated lead turn by Hailee Steinfeld, the movie takes the risk of playing it straight and sincere — and the risk pays off." But David Ehrlich had some of the best things to say about the film in his review at IndieWire:
Pick a god, any god, and thank them for this movie. More directly, thank Kelly Fremon Craig, whose directorial debut confronts millennial teens with the same authenticity and verve that helped 'Fast Times at Ridgemont High' jumpstart a revolution when it crash-landed into the '80s. But labeling this as a new version of an old phenomenon would be a terrible disservice to the wryly hilarious and unflinchingly honest film that Craig hath delivered unto us — like its hard-luck heroine, "'The Edge of Seventeen' acts like a hand-me-down but thinks like a true original.
I've been dying to see this movie since the first red-band trailer hit a while ago. I'm a sucker for coming of age movies just like this, and even though I was never a teenage girl, this feels like something I'm going to fall in love with immediately.
The Edge of Seventeen hits theaters on November 18.