'Spider-Man: Homecoming' Has Wrapped Production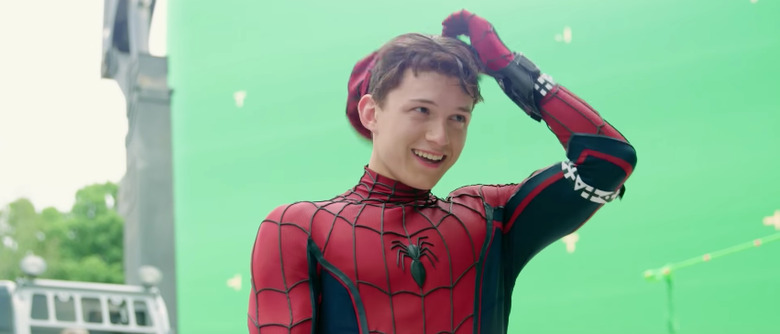 After production moved to New York City for a little while last week, Spider-Man: Homecoming has officially wrapped production. Both director Jon Watts and star Tom Holland announced the end of shooting on their respective Instagram accounts, which you can see after the jump.
Tom Holland posted this while flying back home after Spider-Man Homecoming wrapped production:
Our last day on @spidermanhomecoming and this how we are feeling but we got this hahah ????
A photo posted by ?? (@tomholland2013) on
It looks like the crew is pretty damn tired after shooting the newest solo adventure for our friendly neighborhood wallcrawler, but hopefully, their efforts will have been worth it. Nearly the entirety of production took place in Atlanta, Georgia where all of the Marvel movies have been shooting over the past few years and will continue shooting into the future (with the exception of Thor: Ragnarok in production in Australia right now). But some shooting took place in New York last week with set photos hitting the web here and there. Director Jon Watts (Cop Car) was a little more celebratory about finishing production with a small ceremony in New York:
???????????????????????? A video posted by Jon Watts (@jnwtts) on
What a celebration! It looks like they should have saved some of that Spider-Man cake from when they finished shooting in Atlanta. But we're just glad they're moving into the long post-production phase of the eagerly awaited new edition of Spider-Man from both Marvel Studios and Sony Pictures.
The footage from Spider-Man: Homecoming that was teased at Comic-Con showed us a Marvel movie that feels very different from what we've seen before. It has the style of a John Hughes high school comedy mixed with the Marvel universe, focusing on how Peter Parker is coping with being a famous superhero but not being able to tell anyone about it.
In addition to Tom Holland as Spider-Man, the rest of the cast features returning Marvel cinematic universe cast members such as Marisa Tomei as Aunt May, Robert Downey Jr. as Tony Stark and Jon Favreau as Happy Hogan. New cast members include Michael Keaton as the villain Vulture and reportedly Zendaya as Mary Jane Watson. Meanwhile, Peter's classmates and teachers will be played by the likes of Tony Revolori, Jacob Batalon, Laura Harrier, Martin Starr, Donald Glover and Hannibal Buress.
Spider-Man: Homecoming hits theaters on July 7, 2017.