Cool Stuff: Start Your Day With Coffee Brewed By R2-D2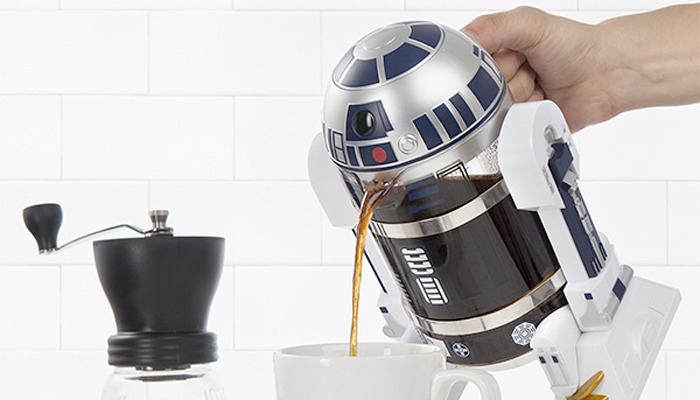 This past weekend brought a bunch of new merchandise to shelves in honor of the forthcoming release of Rogue One: A Star Wars Story. However, one new item that debuted recently doesn't have any ties to the first spin-off film in the Star Wars franchise, but it's easily one of the best gizmos we've seen recently.
This R2-D2 coffee press seems all too perfect of an item to feature on a Monday morning. Plenty of us need some quick caffeine to start the day, and if you're a Star Wars fan, the best part of waking up could be letting the adorable astromech droid R2-D2 brew your coffee for you. Check out the R2-D2 coffee press after the jump.
Here's the Star Wars kitchen gadget available exclusively at ThinkGeek:
All you have to do is toss your coffee grounds and boiling water into R2-D2, and after a few minutes and a plunge of the press, you get four cups of coffee. Add your own sugar and blue milk to get that coffee to your liking, and you're set for a long day of fighting the Empire from your office cubicle.
The R2-D2 coffee press will cost you $40, and it just might make a good Christmas present since it will be made available in early November. And the good news is that he's dishwasher safe, so you don't have to worry about any complicated washing of the little droid coffee maker.