'The Walking Dead' TV Series Ending Will Be Different From The Comic Book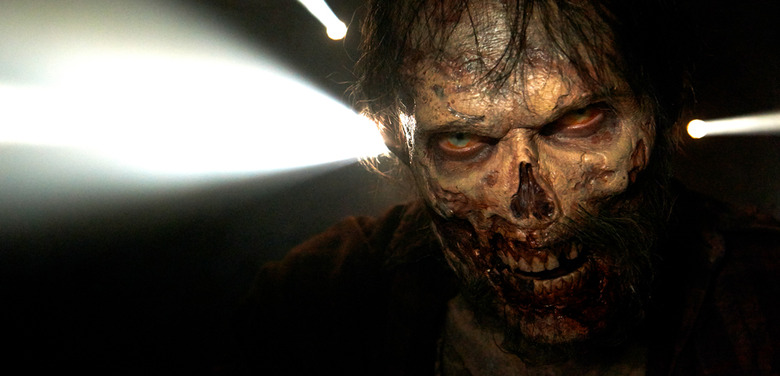 At the beginning of the year, during AMC's annual Television Critics Association panel, Joel Stillerman, president of original programming and development and Charlie Collier, president of the network, indicated they had no intentions of ending The Walking Dead anytime soon. In their minds, since the comic book that inspired the show is still going strong, the show can keep on chugging without a worry (and it won't catch up to the comics in the way that Game of Thrones has caught up and surpassed George R.R. Martin's books).
However, despite the fact that The Walking Dead has been using the comics as source material, that doesn't mean that when the ending of the series will match the ending in the comic books. Find out why The Walking Dead ending will be different in each format after the jump.
The Walking Dead creator Robert Kirkman is appearing on Kevin Smith and Greg Grunberg'ss AMC series Geeking Out this weekend, and in a sneak preview of his interview on the show, he reveals that each version of The Walking Dead will have different endings so fans of both don't have to worry about spoilers. Here's the clip:
If you can't watch the video (via Uproxx), here's what Kirkman had to say about ending The Walking Dead in both formats:
"I know how I want to end The Walking Dead, the book. But I can't tell anyone, because I don't want it on the show before I get it in the comic. So if the show were to ever end, ever, at any point, and the comic was still going, I would have to sit down with Scott [Gimple] and pretend that I have no idea how to end it and work with him to try and come up with a new ending."
So even though AMC has every intention of continuing The Walking Dead as long as they can, if the show happens to end before the comic series, Kirkman will not give them the ending he has in mind for the comic books. One assumes that also benefits fans who only watch the show and don't read the comics, because there won't be any spoilers lifted from the comics to end the show.
It's a shame that HBO couldn't go this route for Game of Thrones, but I imagine fans of the books would be disappointed to see the show veer so far from the vision that George R.R. Martin has in his mind for the continuance of his character's arcs. Since The Walking Dead has already changed details here and there from the comics, having a different ending should be all that worrisome for fans of both the comic and the show.