New 'Trollhunters' Photos Show Off Guillermo Del Toro's Animated Netflix Series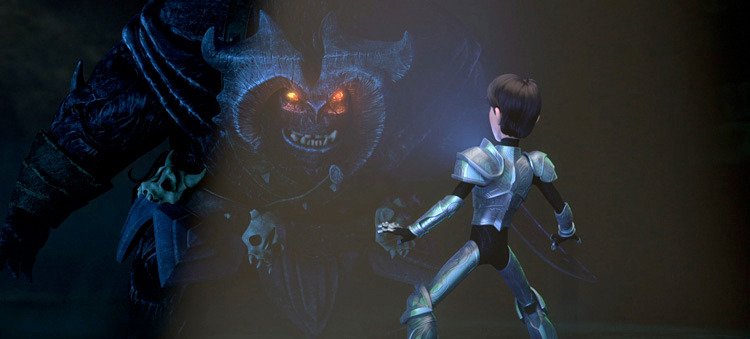 We may receive a commission on purchases made from links.
Originally planned to be a feature film at Walt Disney Pictures back in 2010, Trollhunters is now an animated series over at Netflix, produced by DreamWorks Animation. It's the latest endeavor from Guillermo del Toro, who has been passionate about the project for years now. The story was first published last summer as a young adult novel, and now we're getting a better look at the series as the premiere on Netflix later this year gets closer.
Check out the new Trollhunters photos after the jump.
Entertainment Weekly debuted the new photos from the show which features the voice of the late Anton Yelchin as a 15-year-old named Jim who comes to be a defender of the good trolls who are at war with some opposing bad trolls. This is all happening underneath his hometown, San Bernardino.
Jim isn't alone in this fight, though. He has his friend Toby (voiced by Charlie Saxton) to fight along with him, as well as one of the good trolls named Blinky (voiced by Kelsey Grammer), who lends a couple extra hands with his four arms. Of course, all this fighting has to happen in between the mundane activities of school.
Though Yelchin was killed in a tragic accident earlier this year, he had already completed most of his work on the series, so his character didn't need to be recast. Del Toro says, "We went through great pains to ensure that his voice is preserved for the series. He was so passionate about it, and he had so much fun doing this." The director added there was a "simple goodness and beautiful soul" that Yelchin brought to his performance for Jim. Presumably if the show is popular enough to get more seasons, that role will be recast, but it's nice to have one of Yelchin's last performances intact.
Here's the official synopsis of the book published last summer:
Jim Sturges is your typical teen in suburban San Bernardino-one with an embarrassingly overprotective dad, a best friend named "Tubby" who shares his hatred of all things torturous (like gym class), and a crush on a girl who doesn't know he exists. But everything changes for Jim when a 45-year old mystery resurfaces, threatening the lives of everyone in his seemingly sleepy town. Soon Jim has to team up with a band of unlikely (and some un-human) heroes to battle the monsters he never knew existed.
Trollhunters hits Netflix sometime in December, but no specific date has been announced.