Cool Stuff: Adam Savage Builds A Mobile Movie Theater In A Pick-Up Truck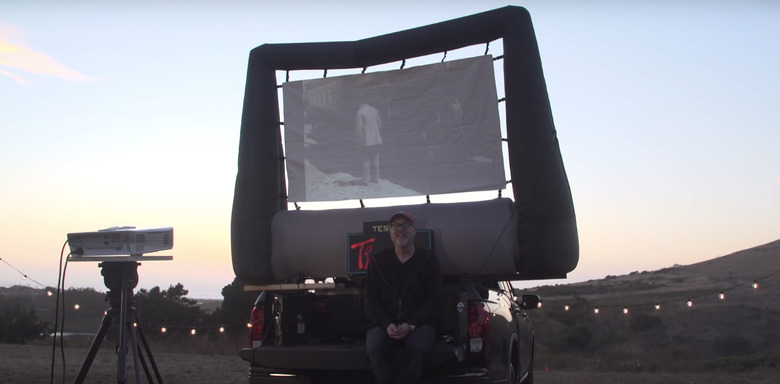 Mythbusters co-host Adam Savage has built plenty of awesome props, gadgets, mechanisms and more over the long history of The Discovery Channel program. But his latest endeavor for the folks at Tested might be the coolest creation for all you cinephiles out there.
As part of a cross-promotion with Honda, Adam Savage turned their Ridgeline pick-up truck into a mobile movie theater for all those times that you want to go camping, but would like to have everyone able to watch a movie without crowding around a laptop.
Watch how Adam Savage builds a mobile movie theater thanks to Tested:
It may not be perfect, but it's a pretty cool little contraption to put in the back of a pick-up truck. The screen likely wouldn't be all that great on windy nights, but weather has an impact on all sorts of camping activities, so that's just part of the experience.
Of course, this isn't exactly the most practical build for just anyone to build. Not everyone has a projector lying around, and those inflatable movie screens usually cost a couple hundred dollars. So if this is something you're looking to put in the back of your pick-up truck, hopefully you have some extra cash lying around.
Even though this is a cool creation by Adam Savage, your average cinephile and camping fan may just be better served to set up a sheet on a clothesline and anchor it to the ground. You still need your own projector obviously, but that's the price you pay for creating a movie theater experience in the outdoors.