'John Wick: Chapter 2' First Look: The Hitman And His Dog Go For A Walk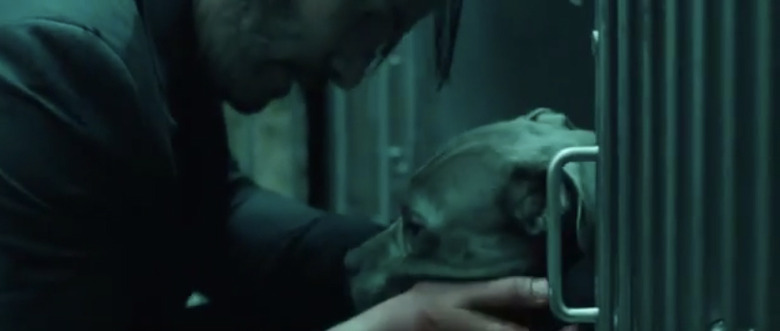 Aside from the fact that John Wick was one of the best action thrillers we've seen in awhile, one of the reasons everyone fell in love with the movie was the adorable puppy that the titular assassin had. But audiences were heartbroken to learn that the dog actually ends up being one of the catalysts to John Wick coming back to action because some a**holes kill that cute little puppy.
Thankfully, John Wick got a new dog at the end of the first movie, and as a new John Wick 2 photo shows us, no one has killed that dog yet. The first official photo from John Wick 2 has just surfaced, and it features the hitman and his trusty canine taking a walk. I swear on everything that is holy, if someone kills that dog, there will be hell to pay.
Here's the first John Wick: Chapter 2 photo from Lionsgate: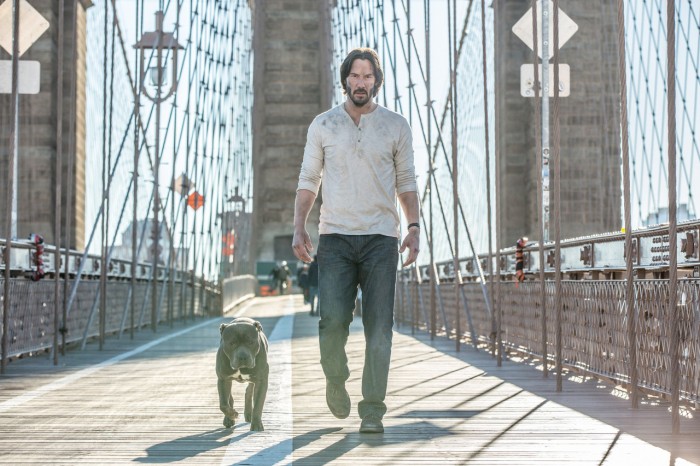 Keanu Reeves looks like he has some residue from an explosion on his shirt and body. Or maybe he's just dirty from getting into some fisticuffs at the dog park. Anything is possible with John Wick.
Since the teaser poster for the sequel also just debuted recently, we're betting the first trailer is right around the corner. After all, Lionsgate is having a panel at New York Comic-Con for both this sequel and their new Power Rangers movie. We know footage of the latter will definitely be shown, and NYCC seems like the best time to unveil the first trailer for John Wick 2 as well. As soon as it's available online, you know we'll have it right here.
Movies like this usually don't get people excited anymore, but John Wick had that special combination of a badass Keanu Reeves and some incredible action and violence to engage the audiences who just eat that up. That's largely thanks to director Chad Stahelski, who is back behind the camera again for the sequel. Will he be able to capture the magic that made the first movie so great? If he does his job well, it will hopefully up the ante a little bit.
The rest of the John Wick 2 cast includes the return of John Leguizamo, Lance Reddick and Ian McShane from the first film as well as new cast members Laurence Fishburne, Ruby Rose, Common, Peter Stormare and Riccardo Scamarcio. Stay tuned for more soon
Keanu Reeves returns in the sequel to the 2014 hit as legendary hitman John Wick who is forced to back out of retirement by a former associate plotting to seize control of a shadowy international assassins' guild. Bound by a blood oath to help him, John travels to Rome where he squares off against some of the world's deadliest killers.
John Wick: Chapter 2 hits theaters on February 10, 2017.