'Doctor Strange' IMAX Trailer + Get Free Tickets To A 15-Minute Theatrical Sneak Preview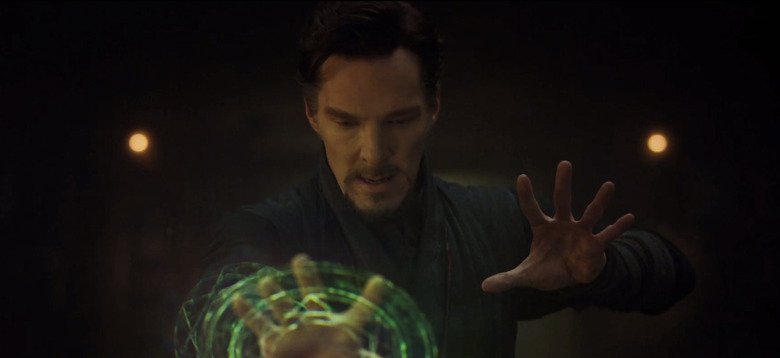 It sounds like Marvel Studios feels the need to build the early buzz on Doctor Strange a little more, because they've just announced a special IMAX 3D sneak preview of 15 minutes of footage from the movie. Find out when and where you can catch this Doctor Strange sneak preview after the jump.
Fans interested in seeing what Marvel's latest movie has to offer will be able to attend what is being called Expand Your Mind: An IMAX 3D Exclusive First Look, which will play at over 115 movie theaters across North America on October 10th at 7pm local time. Here's a tease for the event in the form of a quick IMAX trailer with some great new footage of Benedict Cumberbatch in action as the Sorcerer Supreme, as well as a quick name drop of the Avengers:
With 15 minutes from the movie, we'll be seeing plenty of never-before-seen footage that has likely been assembled to convince unknowing or skeptical audiences to see the movie. However, I'm not sure that anyone outside of fans who already know about this movie will be all that interested in just seeing 15 minutes of the film, even if it's for free. But maybe this will also serve as a way for Marvel's fans to gain the confidence to convince their lesser interested friends and family to check out Marvel's new movie.
The last time Marvel felt the need to have a sneak preview like this, it was for Guardians of the Galaxy. Since that was a property that was a little strange for general audiences and even some Marvel fans to embrace, it was a smart move on Marvel's part. And since Guardians of the Galaxy went on to be one of the favorites out of the entire cinematic universe, hopefully this preview means Marvel is confident in the movie they have waiting for us to see on November 4th.
Director Scott Derrickson had this to say in a press for the event:
As a movie fan, I am thrilled to take audiences along on the visual journey of 'Doctor Strange' and give them an early peek at what we've been working on.  The completed film will feature more than an hour of specially formatted IMAX sequences that will provide audiences with a totally immersive—and mind-blowing—film-going experience and I'm excited to share a taste of that with our fans on 10/10.
If you want to get tickets to the event, head to SeeItFirst right here to find the closest theater. Attendees will also get a limited edition Doctor Strange IMAX poster.
From Marvel Studios comes "Doctor Strange," the story of world-famous neurosurgeon Dr. Stephen Strange whose life changes forever after a horrific car accident robs him of the use of his hands. When traditional medicine fails him, he is forced to look for healing, and hope, in an unlikely place—a mysterious enclave known as Kamar-Taj. He quickly learns that this is not just a center for healing but also the front line of a battle against unseen dark forces bent on destroying our reality. Before long Strange—armed with newly acquired magical powers—is forced to choose whether to return to his life of fortune and status or leave it all behind to defend the world as the most powerful sorcerer in existence.