'SWAT' Getting A TV Series Reboot At CBS From Justin Lin & Shawn Ryan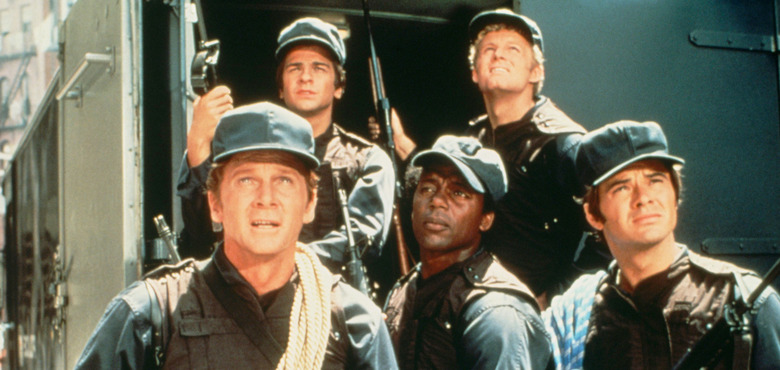 This fall, CBS revived MacGyver with a TV series reboot starring Lucas Till, and before that they successfully brought back Hawaii Five-O and The Odd Couple. Now they're reaching back into the 1970s for another series reboot.
SWAT ran on CBS for just two seasons totaling 37 episodes from February 1975 to April 1976 and was turned into a feature film of the same name. Now it's getting a series reboot at its home network with The Shield creator Shawn Ryan on board, as well as Fast & Furious franchise director Justin Lin. Find out more about the SWAT reboot after the jump.
The original series produced by TV legend Aaron Spelling is arguably better known for its iconic theme than for its quality programming. The song sounds like this in case you need a reminder:
The crime procedural was a spin-off of The Rookies and followed a Special Weapons And Tactics (SWAT) team operating in an unidentified California city. Steve Forrest starred as the unit's leader Lieutenant "Hondo" Harrelson, Rod Perry as Hondo's second-in-command Sergeant David "Deacon" McKay, Robert Urich as Officer Jim Street, James Coleman as Officer T.J. McCabe, and Mark Shera as Officer Dominic Luca.
SWAT was also turned into a movie back in 2002, when film adaptations of classic TV shows were all the rage. The film starred Colin Farrell, Samuel L. Jackson, Michelle Rodriguez, Jeremy Renner and LL Cool J. Though the series reboot will have some big screen talent behind it with Justin Lin on board, I imagine the cast won't be pulling in as many big names, especially since it's a network show. But Lin has done some solid television work with the likes of Community and True Detective, so he should help attract some great talent.TV Line reveals the reboot will change the show a little bit by following an African-American SWAT lieutenant whose loyalties are divided between his fellow cops and the tough streets he grew up on. I'm not sure CBS needs any more crime procedural shows, but since this one has executive producer Shawn Ryan on board, it just might be one worth watching. Also on board will be Neil H. Moritz (Preacher) and Aaron Rahsaan Thomas (Sleepy Hollow) writing the script.
While we're enjoying a new golden age of television right now, there is still a heavy reliance on recycling old TV shows to create something "new" for audiences who just want something familiar. The crime procedural will never go anywhere either, so this is CBS doing what they do best by playing it safe.