'Justin Timberlake And The Tennessee Kids' Trailer: Jonathan Demme Films An Epic Arena Concert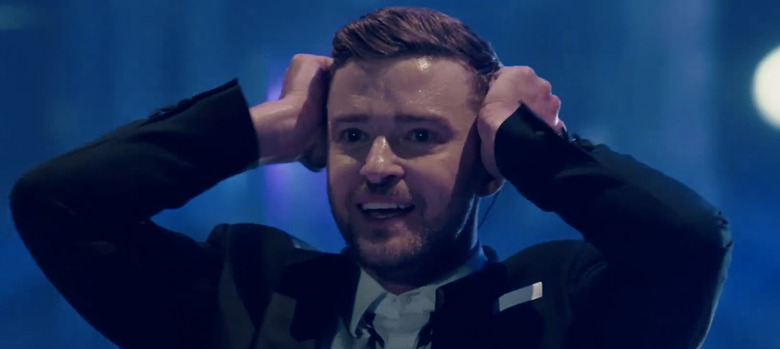 Justin Timberlake is one of the best singers and songwriters working in the music industry today. While he started off as just another breakout pop star, his music in recent years has begun to throw back to a different era with a contemporary edge. He doesn't just deliver the shorter three-minute, radio-friendly songs, but extended indulgences with amazing instrumentals.
Now you can see what it's like to witness Justin Timberlake in concert with a new documentary coming to Netflix next month. While that might not sound very special to you, this particular documentary, called Justin Timberlake and The Tennessee Kids, is directed by Silence of the Lambs helmer Jonathan Demme.
Watch the Justin Timberlake documentary trailer after the jump.
It looks like Jonathan Demme will also provide a glimpse behind the scenes of the 20/20 Experience World Tour, in addition to showing off Timberlake and the titular band's performance at the MGM Grand Garden Arena in Las Vegas. We get a taste of just some of the music from the concert, including Timberlake's hit song "Mirrors," but there's bound to be plenty more in the movie.
Though the concert is part of his 20/20 Experience World Tour, Timberlake will play some of his older hits, including "Cry My a River," but hopefully there are some other surprises in store. Personally, I always like when a performer tackles a cover song when they're on tour, so I hope he's got something like that in this documentary.
In addition to this documentary, we're going to get much more music from Justin Timberlake this year with the release of Trolls coming on November 4th. Not only does Timberlake sing on the soundtrack, but he also produced it, including writing original songs for the movie. You can actually stream the soundtrack at Spotify and some other places right now.
Music superstar Justin Timberlake and acclaimed director Jonathan Demme team up for a visionary concert-film experience with the new Netflix release Justin Timberlake + The Tennessee Kids. Timberlake, along with his band – the Tennessee Kids – will have you on your feet singing along, from "Cry Me a River" to "Mirrors."  The Netflix Original Film, which premiered at the 2016 Toronto International Film Festival, gives you the best seat in the house for the final show of the 20/20 Experience World Tour at Las Vegas' MGM Grand Garden Arena.
Justin Timberlake And The Tennessee Kids hits Netflix on October 12th.