'Fences' Trailer: Denzel Washington & Viola Davis Already Look Oscar Worthy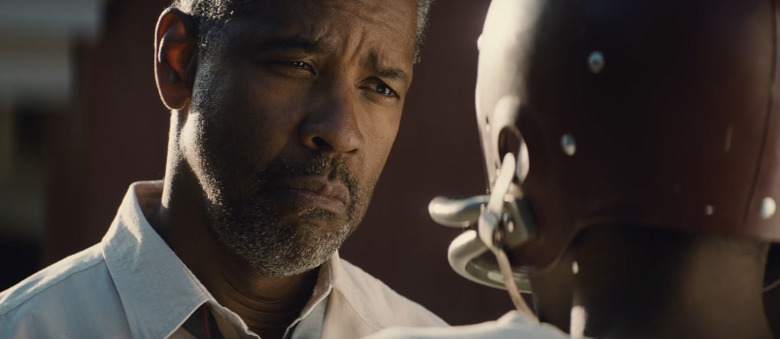 We're almost in the thick of awards season now that it's officially fall, and that means we'll start seeing more trailers for the films hoping for Oscar glory early next year. Paramount Pictures has just thrown one of their entries into the ring with the first trailer for Fences, an adaptation of August Wilson's Tony Award and Pulitzer Prize winning play of the same name.
Denzel Washington directs and stars in the film adaptation of the play, and he's also brought his fellow stage star Viola Davis to reprise her role in the film. It's an intense, powerful teaser trailer that already proves Washington and Davis turn in performances that will likely earn them acting nominations on the awards circuit.
Watch the Fences trailer after the jump.
The stirring voiceover provided by Denzel Washington's stern words to his teenage son have so much weight to them, they make me feel like I'm getting reprimanded myself. As Washington unfurls this monologue to his son, a montage of highs and lows of this family play out, giving us a brief glimpse into what they have endured all these years, promising a potent drama. And that moment at the end when Viola Davis finally lashes out at Washington is worth an award by itself.
In addition to Washington and Davis, the rest of the cast includes Jovan Adepo, Stephen McKinley Henderson, Russell Hornsby, Mykelti Williamson and Saniyya Sydney. While we previously heard the script was going to be adapted by Tony Kushner (Lincoln, Munich), Washington opted to use a script that August Wilson wrote himself before passing away in 2005.
This is supposed to be the first of 10 movies based on August Wilson's work that Denzel Washington is working on, and if the movie turns out to be half as good as this trailer indicates, I can't wait to see what else he has up his sleeve. If you've never encountered Fences on stage or in school before now, here's the official synopsis of the play:
Troy Maxson, is a strong man, a hard man. He has had to be to survive. Troy Maxson has gone through life in an America where to be proud and black is to face pressures that could crush a man, body and soul. But the 1950s are yielding to the new spirit of liberation in the 1960s, a spirit that is changing the world Troy Maxson has learned to deal with the only way he can, a spirit that is making him a stranger, angry and afraid, in a world he never knew and to a wife and son he understands less and less.
Fences arrives in theaters on December 25.