'King Cobra' Trailer: James Franco And Christian Slater Star In The Gay Porn Thriller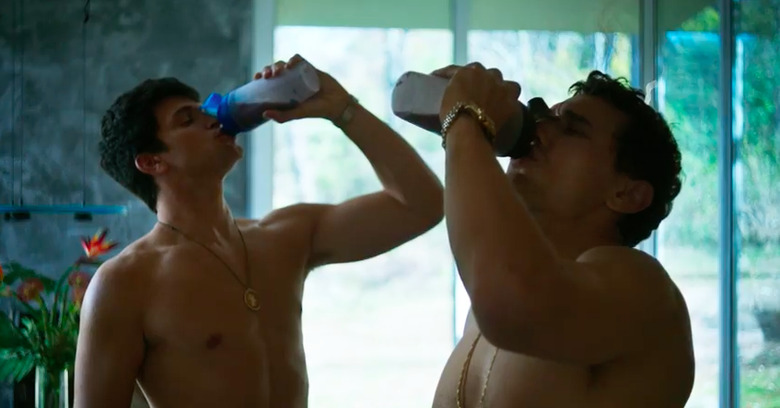 Based on a true story, King Cobra shows James Franco and Christian Slater face off as gay porn producers, but there's likely far more to writer-director Justin Kelly's movie than that summary. The drama is really about the rise of gay porn star Sean Paul Lockhart (known as Brent Corrigan), and the killing of the producer who helped start his career. Former Disney Channel star Garrett Clayton plays Lockhart in the film.
Below, watch the King Cobra trailer.
James Franco starred in Kelly's previous drama, I Am Michael, which was a true story about a gay activist (Franco) who denounced homosexuality and became a Christian pastor. Their newest film primarily takes place in 2007, involving the murder of gay porn producer Bryan Kocis (played by Slater). Kelly wrote King Kobra based on Andrew E. Stoner and Peter A. Conway's book "Cobra Killer: Gay Porn, Murder, and the Manhunt to Bring the Killers to Justice." The director's adaptation co-stars Alicia Silverstone, Molly Ringwald, and Keegan Allen.
Here's the King Cobra trailer (Source: Vulture):
Sean Paul Lockhart has been vocal about his differences with King Cobra's depiction of events. He hasn't seen the film, but he wasn't very pleased with how the script portrayed him. Lockhart refused to participate in the movie, and he decided to write a book about his experience. Lockhart, however, is one of the few people that's not onboard with Justin Kelly's crime story. King Cobra earned positive reviews at the Tribeca Film Festival, where a few critics favorably compared Kelly's film to Boogie Nights. Nobody claimed it was on the same level as Paul Thomas Anderson's movie, but even if King Cobra has the slightest bit of Boogie Nights' D.N.A., then it's probably worth seeing.
Here's the official synopsis:
Based on a stranger-than-fiction true story, King Cobra is a deliciously dark, twisted plunge into the behind-the-scenes world of the pornography industry. It's 2006, YouTube is in its infancy, and internet porn is still behind a paywall. Taking the stage name Brent Corrigan, a fresh-faced, wannabe adult video performer (Garrett Clayton) is molded into a star by Stephen (Christian Slater), a closeted gay porn mogul who runs the skin flick empire Cobra Video from his seemingly ordinary suburban home. But as Brent's rise and demands for more money put him at odds with his boss, he also attracts the attention of a rival producer (James Franco) and his unstable lover (Keegan Allen) who will stop at nothing to squash Cobra Video and steal its number one star. Co-starring Alicia Silverstone and Molly Ringwald, King Cobra is part delirious, tabloid-shocker satire, part American tragedy.
King Cobra opens in limited release and on VOD on October 21st.