First 'Supergirl' Season 2 Clip Has Superman Take Flight With His Cousin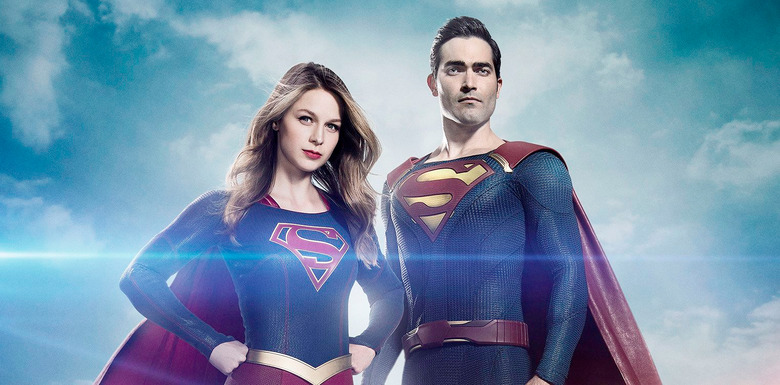 Supergirl moves over to The CW when the second season premieres next month, and along with that change comes the arrival of Kara Zor-El's world-famous cousin, Superman.
We've already gotten a first look at Tyler Hoechlin suited up as the Man of Steel alongside his superhero cousin (Melissa Benoist), and now the first clip from the second season premiere shows Superman in action, working with Supergirl to save an aircraft in distress.
Watch the Supergirl season 2 clip after the jump.
Here's the Supergirl season 2 clip from Entertainment Weekly:
I wasn't sure what to expect from Tyler Hoechlin's take on Superman, but his initial appearance as Clark Kent inspires some confidence. He's charming and awkward and even takes a harmless swipe at the off-screen Perry White for still saying "great Caesar's ghost" while making fun of the phrases that Clark Kent says all the time.
Then when he rips off his clothes and takes off as Superman, I don't have a hard time believing that a man can fly. The good news is that this isn't an instance when Supergirl needs Superman's help, but they just both happen to arrive at the same tragedy to save the day.
There's been some concern with how much the second season of Supergirl is relying on Superman for marketing. While bringing in Man of Steel as more than a silhouette is a big deal, fans just don't want the spotlight taken away from the superhero that the show is named after. Funnily enough, the popularity of Superman is something that Kara will have to come to terms with during this coming season, so maybe they're just planting the seeds for her to struggle with not being the only superhero around. But surely she'll come out a better hero and realizes that she's still someone to be admired, a true superhero who doesn't rely on her cousin for acclaim.
Supergirl premieres on The CW on October 10 at 8pm Eastern/Pacific. Here's the premiere synopsis:
When a new threat emerges in National City, Kara/Supergirl (Melissa Benoist) teams up with her cousin, Clark Kent/Superman (guest star Tyler Hoechlin), to stop it. Kara is thrilled to have family in town but it leaves Alex (Chyler Leigh) feeling a bit left out. Meanwhile, Hank (David Harewood) and Supergirl are stunned by the pod that came crashing to Earth. Glen Winter directed the episode with story by Greg Berlanti & Andrew Kreisberg and teleplay by Andrew Kreisberg and Jessica Queller.