Michael Bay Responds To 'Transformers: The Last Knight' Nazi Controversy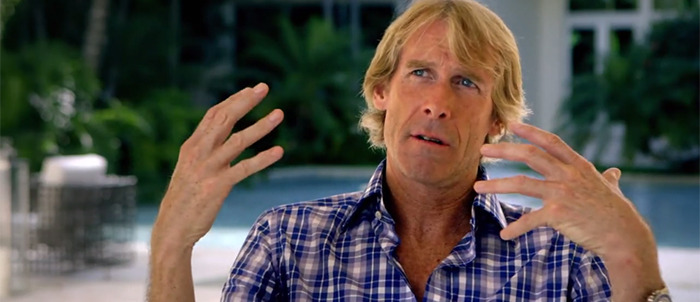 Can we just take a minute to acknowledge how weird it is that there is a Nazi controversy tied to a Transformers movie? All right, let's get to the story.
Last week, we learned that Transformers: The Last Knight would be bringing Hitler and Nazis into the equation somehow. This information came to light because the sequel from director Michael Bay is currently filming in the United Kingdom, and one of their locations included Blenheim Palace in Oxfordshire, England, the home of Winston Churchill. However, it had been draped in giant Nazi flags and surrounded by their artillery and SS stormtroopers. This upset some veterans groups, and it stirred up quite a controversy across the pond.
Now Michael Bay has responded to the Transformers The Last Knight Nazi controversy, and in doing so, he has revealed another key character we'll see in the movie. Find out more below.
Speaking to The BBC (via Entertainment Weekly), here's how Michael Bay defended the production against criticism:
I just want to say, people were not fortunate enough to read the script, and they don't know that Churchill in this movie is a big hero. And Churchill would be smiling about Last Knight. They haven't seen the movie, they don't know the ending, and they don't know how Churchill is a hero in this movie. So, as the staff said, 'He'd be smiling right now.'
Well, in real life Churchill is quite the hero, so I'm interested to see what he does in the movie that elevates that fact of history. Again, I think that whatever artifact is at the center of The Last Knight must have been a key element of World War II that people don't know about. Oh, and in case you didn't realize, this is the first we're hearing that Winston Churchill is also in Transformers: The Last Knight.
Bay continued to defend the Transformers sequel by adding:
When you see the movie, you'll understand. I for one, probably more than any director in the world, have shot more veterans and more active military men and women in my movies. I would do nothing to disrespect veterans.
Sure, Bay just said that he "shot more veterans and more active military men and women," but we all know what he means, no matter how wrong that sounds. But Bay makes a good point. In his movies, Bay employs plenty of real-life veterans, and if this was something that was inherently disrespectful to veterans, hopefully one of them would have spoken up.
In the end, this is just being done for fiction, and Nazi paraphernalia has been recreated countless times in movies. It just seems to be a problem that it's covering the home of a war hero. Could Michael Bay have chosen another ornate location to stand in for Hitler's base rather than the home of his enemy? Yeah, possibly. But who knows what wild vision Michael Bay has for this movie. Again, this is a Transformers movie we're talking about where robot dinosaurs, King Arthur, and Nazis will be in the same movie, so we probably shouldn't get too worked up.