Watch The First 10 Minutes Of 'Hunt For The Wilderpeople', One Of The Best Movies Of The Year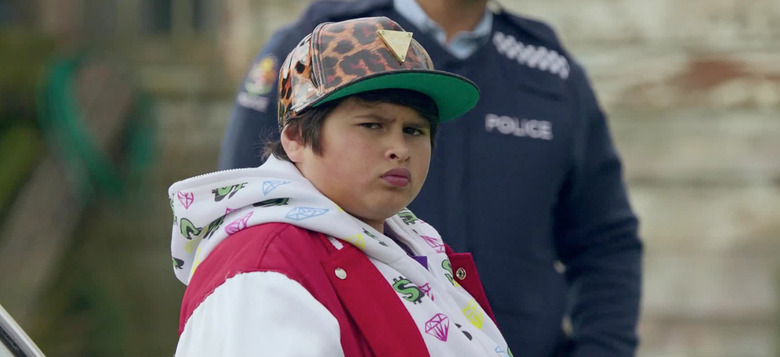 Not only was What We Do In The Shadows one of my favorite films of 2015, it shocked us all by coming in at #2 on the list of the best movies of the year put together by all of us here at /Film. Right now the film's director, Taika Waititi, is busy in Australia behind the camera for Thor: Ragnarok, the third film in the Marvel Studios franchise. But before he went into superhero territory, Waititi went back to New Zealand for an indie adventure comedy that debuted at Sundance this year and is now readily available for you to watch.
Hunt for the Wilderpeople arrives on Blu-ray and DVD next week, but you can actually buy it on Digital HD right now if you were so inclined. And honestly, it could be the best decision you make this month, or even next month. The film takes the character dynamic of Up and tosses it into the brush of New Zealand with adorable hilarity that only Taika Waititi can deliver. If you need any more convincing, you can watch the first 10 minutes of Hunt for the Wilderpeople after the jump.
Here are the opening 10 minutes of Hunt for the Wilderpeople from ComingSoon:
Taking the lead we have Julian Dennison, a young actor who will steal your heart and crack you up in this movie. But he's also joined by Jurassic Park star Sam Neill as the curmudgeonly Uncle Hec, Rima Te Wiata as Aunty Bella, Rachel House as a stern social worker named Paula, and a supporting cast that also includes Rhys Darby and Taika Waititi himself in a fantastic cameo.
You can read our review from Sundance to find out how outstanding this movie is, but honestly, you just should go out of your way to see it. This is one of those gems that didn't get much hype in its theatrical release, but should be seen by anyone and everyone. It's the kind of movie you can watch with the whole family and everyone will find something to love about it.
If you're not the kind of person who likes to buy a movie before you watch it, the movie will be available to rent starting September 27. Here's the official synopsis if you want any more details:
Raised on hip-hop and foster care, defiant city kid Ricky gets a fresh start in the New Zealand countryside. He quickly finds himself at home with his new foster family: the loving Aunt Bella, the cantankerous Uncle Hec, and dog Tupac. When a tragedy strikes that threatens to ship Ricky to another home, both he and Hec go on the run in the bush. As a national manhunt ensues, the newly branded outlaws must face their options: go out in a blaze of glory or overcome their differences and survive as a family.