'Bad Santa 2' Green Band Trailer: A Tame Look At The Raunchy Holiday Comedy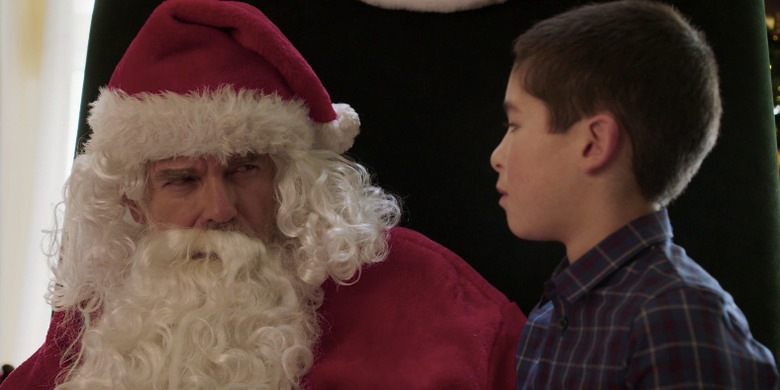 Just earlier this week a new red band trailer for the long-anticipated Bad Santa 2 arrived, and before that another raunchy trailer showed us the vulgarity in store for us from Billy Bob Thornton's return to the red suit. But for those who can't watch those kind of trailers at work, or will be waiting for this movie to his basic cable, a new Bad Santa 2 green band trailer teases the comedy without any of the fun, naughty language or sexual content. But believe it or not, even without the R-rated details, it's still a pretty funny trailer.
Watch the new Bad Santa 2 trailer after the jump.
This trailer has some alternate takes that were clearly shot just for the movie's debut on basic cable, and it also does that thing where it cuts the last word of a sentence, which is clearly the most vulgar part, but still has the reaction from one of the other characters. In this case, it's Christina Hendricks reacting to something that Billy Bob Thornton says, and while the trailer makes it look like she's reacting to his comment about the prominent physical features of her chest, it's more than likely something else offensive. Of course, we know that she's not entirely turned off by Thornton's character since he ends up having sex with her in an alley next to a dumpster, as evidenced by the most recent red band trailer.
While the comedy of Bad Santa 2 will undeniably rely on how raunchy it is, there do appear to be some comedic moments that don't entirely rely on a guy dressed as Santa Claus being a complete a**hole. But of course, that's the driving force of the entire premise, and that's what fans want, so there will be plenty of that to go around. I think the presence of Kathy Bates will really be what makes this sequel work.
Bad Santa 2 is in theaters November 23.
Bad Santa 2 returns Academy Award-winner Billy Bob Thornton to the screen as America's favorite anti-hero, Willie Soke. Fueled by cheap whiskey, greed and hatred, Willie teams up once again with his angry little sidekick, Marcus (Tony Cox), to knock off a Chicago charity on Christmas Eve. Along for the ride is 'the kid' – chubby and cheery Thurman Merman (Brett Kelly), a 250-pound ray of sunshine who brings out Willie's sliver of humanity.
Mommy issues arise when the pair are joined by Academy Award, Golden Globe and Emmy-winner Kathy Bates, as Willie's horror story of a mother, Sunny Soke. A super butch super bitch, Sunny raises the bar for the gang's ambitions, while somehow lowering the standards of criminal behavior. Willie is further burdened by lusting after the curvaceous and prim Diane, played by Emmy Award-nominee Christina Hendricks, the charity director with a heart of gold and libido of steel.