Dwayne Johnson Delivers 'Jumanji 2' Video From The Jungle As Rhys Darby Joins The Cast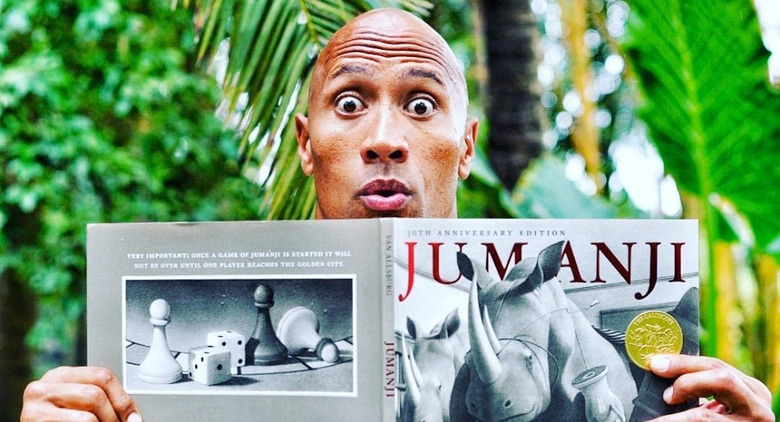 Production on the new Jumanji is underway over in the jungles of Hawaii. Kevin Hart just recently posted a first look at our main characters played by himself, Dwayne Johnson, Karen Gillan and Jack Black. Now it's Hart's Central Intelligence co-star's turn to share a behind-the-scenes look at the movie that was initially thought to be reboot, but is actually a sequel. In fact, it sounds like it's more of a legacy-quel since the movie will pay tribute to Robin Williams' character in some capacity.
In addition, Jumanji 2 has added some new cast members, including Flight of the Conchords and What We Do In The Shadows star Rhys Darby, and Karen Gillan revealed a tease about why her character is so scantily clad in the dangerous jungle. See all that and Dwayne Johnson's Jumanji 2 set video after the jump.
Here's the set video that Dwayne Johnson posted on Instagram yesterday:
My character's one of the greatest explorers in the world and I'm deep in the jungles of #Jumanji and discovering new land.. never mind @hhgarcia41 ruined the damn shot.???? #OnLocation #Hawaii #Welcome2Jumanji
Plus, Kevin Hart posted this amusing behind the scenes video with Jack Black:
Having a amazing time on set with Jack Black & @therock ....There is never a dull moment lmao!!!! P.S the bugs are whooping me & @karengillanofficial ass!!!! #Jumanji #SetLife A video posted by Kevin Hart (@kevinhart4real) on Sep 22, 2016 at 9:45pm PDT
Sadly, Dwayne Johnson is just having a laugh about being stuck in the jungle instead of giving us any details about the story. After the first photo showed us the main characters in full wardrobe, people were left with a lot of questions. This is the first time we'll be heading into the jungles of Jumanji rather than seeing the game unleashed on the real world, but we have no context for what all these characters are doing there, especially with all of them having looks that could be from different time periods.
However, some criticism about Karen Gillan's skimpy costume has resulted in a reaction from the actress that may provide a hint about her character. Here's what Gillan posted on Twitter after some people expressed dissatisfaction with the practicality of her outfit:
Jumanji! Yes I'm wearing child sized clothes and YES there is a reason! The pay off is worth it, I promise! #Jumanji pic.twitter.com/qBshnhwV6K

— Karen Gillan (@karengillan) September 21, 2016
My best guess would be that Karen Gillan has been stuck in the game for awhile, not unlike Alan Parrish in the original 1995 film adaptation. After all, once Alan returned from the game, he was a bit of a wild man who was very skilled in surviving in the jungle. Presumably the same thing could have happened to Karen Gillan's character, but the only clothes she has had this whole time are what she wore when she was sucked into the game. Hopefully we get some details for clarification soon.
Finally, in addition to the four revealed cast members, Deadline reveals that Rhys Darby and Morgan Turner (Mildred Pierce) have joined the movie in supporting roles. Darby is playing a character named Nigel, though no other details were revealed in the report. Judging by the name, that sounds like a character who would be perfectly paired with Jack Black's character, who has the vibe of an explorer from the late 1800s or early 1900s. That's just speculation on our end though. Meanwhile, we don't know anything about Turner's character.
Jumanji 2 (or whatever it ends up being called) arrives on July 28th, 2017.