'Incorporated' Trailer: Ben Affleck And Matt Damon's Syfy Series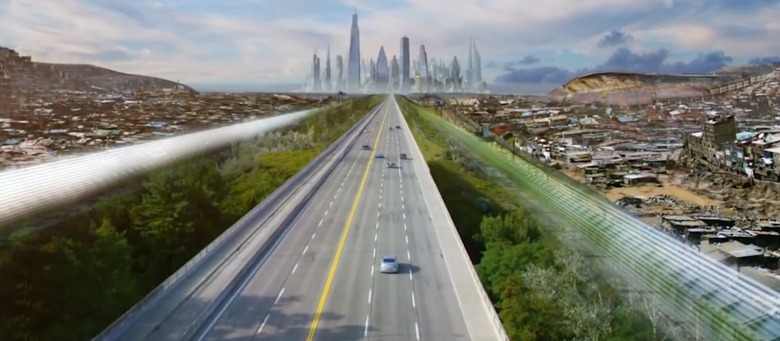 Last year we told you that longtime BFFs Matt Damon and Ben Affleck would be teaming up again on a futuristic spy thriller series called Incorporated for Syfy. The first Incorporated trailer has hit the web, and you can get your first look at the upcoming Damon/Affleck-produced Syfy series after the jump.
Syfy's Incorporated Trailer
Incorporated takes place in a future where corporations have unlimited power. At the center of the story is Ben Larson, an executive who takes on a new identity, infiltrates a particularly cutthroat company, and confronts the entire system, all in an effort to save the woman he loves. When we first reported on the show, it was described as combining "elements of suspense, action, a dark sense of humor" in its journey through "a world where ethical boundaries have been completely redrawn."
I like some of the actors involved in this show, like Dennis Haysbert who was great in 24, and Damon Herriman, who was good in Justified. I also will check this out purely on Affleck and Damon's involvement alone. But while the premise sounds interesting, the trailer gives me the same vibes I get from the many other shows on Syfy.
Admittedly, I'm not the biggest fan of Syfy's original television series. I loved Battlestar Galactica; I remember liking Farscape but never finished the series, but aside from those two shows I don't think I've enjoyed another series on the network. I even recently tried to get into The Expanse.
I'm not sure if it's the low budget production values or the cheesy acting or the sometimes poorly written scripts.  It probably doesn't help that most of their shows are usually filmed in Canada as I'm getting tired of Vancouver or Toronto filling in for our future sci-fi television worlds. It's unfair to judge a whole network's worth of programming as one single thing, but I consistently give it a chance (because I love science fiction) but am never shocked to learn it's just not for me.
Ted Humphrey (The Good Wife) serves as showrunner while the pilot was written and directed by brothers David and Àlex Pastor (Self/less). Affleck and Damon are executive producing through their Pearl Street Films banner, along with Pearl Street president Jennifer Todd.
Here is the official synopsis from Syfy:
2074. Governments have fallen and corporations have taken control. A good life requires the right identity. Which one will you choose? As the year 2100 approaches, the world is in chaos. As governments fell, corporations took control. The haves and the have-nots find themselves living in the Green and Red Zones. One man – Ben Larson – escapes the Red Zone, infiltrating the Green Zone to take them down and find the woman he loves.
Incorporated airs on November 30th, 2016 on Syfy.