'Monster Trucks' Projected To Lose $115 Million For Paramount Pictures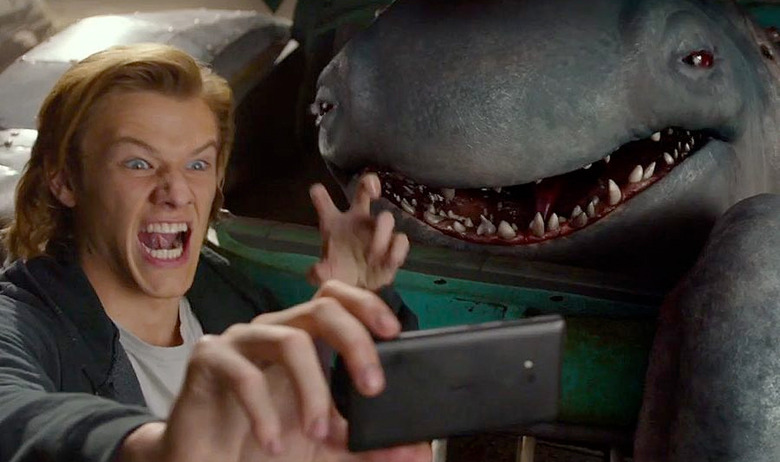 All the major studios are having conference calls and meetings with their investors this week to talk about the upcoming fourth quarter of the fiscal year. Disney downplayed the expectations of Rogue One: A Star Wars Story a bit; Netflix talked about eventually having 50% of their library made up of original programming, and now Paramount Pictures has delivered some troubling but unsurprising news about one of their upcoming projects.
The family friendly action adventure movie Monster Trucks is projected to lose Paramount Pictures around $115 million. The movie doesn't even hit theaters until January 13, 2017 and the studio is already expecting it to hit the box office below initial expectations. Find out more about Monster Trucks box office predictions after the jump.
The projected stumbling of Monster Trucks should come as no surprise since Paramount Pictures has delayed the film over a year already. The project was initially set for release on May 29, 2015; then it ended up getting pushed back to December 25, 2015. Then it was pushed back another year for release this coming January, a month that is usually a dumping ground for bad comedy and horror release and the movies Hollywood doesn't know what to do with.
The concept behind Monster Trucks is an interesting one as it follows a couple of older teens (Lucas Till and Jane Levy) who stumble upon some kind of alien creature with the ability to hide inside and control automobiles. More specifically, the creature ends up getting comfortable inside of some heavy duty trucks. Of course, the government (led by Holt McCallany) ends up in pursuit, as they always do, and the kids and the creature end up on the run, getting a little help from Danny Glover along the way. The rest of the cast includes Barry Pepper, Amy Ryan, and Rob Lowe.
That movie sounds like an idea that could have easily been used to create a blockbuster that hits with a variety of audiences, but The Hollywood Reporter says the film ended up being more like a kids movie. Admittedly, there's something fascinating about a high concept film like this being geared more specifically towards children, something that usually doesn't happen nowadays, but Monster Trucks just doesn't look appealing to me whatsoever.
Honestly, I'm not sure if the movie looks appealing to the kids who Paramount hopes will drag their parents to. I've seen this trailer several times in theaters, and in one instance, a child around the age of 10 whispered to his parents, "That looks dumb." It sounds like Paramount has an uphill battle to get kids on board, and this might be one instance when the movie could have benefited from some kind of brand recognition with a toy from Hasbro or something like that.