'Hamilton's America' Trailer: PBS Takes A Star-Studded, In-Depth Look At The Broadway Sensation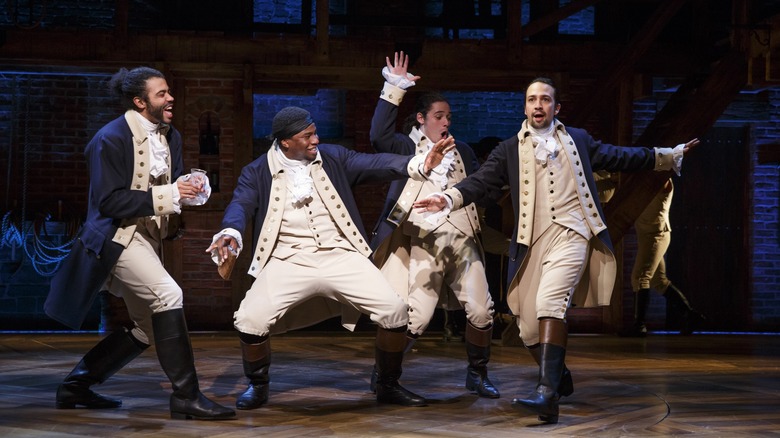 Those who want a Hamilton movie are just gonna have to wait for it, but in the meantime PBS will try and tide us over with a TV special. As part of the long-running Great Performances series, the network is airing Hamilton's America, a documentary special that delves into the creation of the Broadway smash hit, the real-life history behind it, and its relevance to current hot-topic issues.
Fans can look forward to interviews with Hamilton creator Lin-Manuel Miranda, Leslie Odom Jr. (Aaron Burr), Christopher Jackson (George Washington), and others involved with the production, plus new footage of performances by the original cast. But you can really tell what a phenomenon this show is by the kinds of talking heads this documentary has attracted: everyone from Nas to Stephen Sondheim to President Barack Obama. Watch the Hamilton documentary trailer below. 
USA Today debuted a second teaser for Hamilton's America today:
It's impossible to overstate just what a big deal Hamilton is. Even if you're not personally a fan of the show, or even if you're not personally interested in theater, you've definitely heard all about it. Miranda has become a household name, and he and his co-stars are covering magazines and scooping up awards on a regular basis. It's a level of cultural prominence we rarely see from theater productions, especially since the very nature of this medium means only a tiny proportion of the fanbase has actually seen Hamilton in its complete form. The rest of us have had to make do with the soundtrack, supplemented by photographs and occasional televised numbers. And unlike Harry Potter and the Cursed Child or Lion King, Hamilton's popularity isn't even propelled by familiar source material.
Hamilton reached the end of an era this summer when Miranda, Odom, and several other main cast members finished their contracts and decided to move on. But you haven't seen or heard the last of them. Miranda, for one, has contributed music to this fall's Disney animated adventure Moana, and will next be seen in Disney's Mary Poppins sequel alongside Emily Blunt. Meanwhile, the show itself is still going strong. New stars have stepped up for the Broadway production (including Javier Muñoz and Brandon Victor Dixon as the new Hamilton and Burr), and new productions are launching in Chicago and London, with a national tour set to kick off in 2017.Hamilton's America airs 9-10:30 PM Friday, October 21 on PBS.
The story of Alexander Hamilton is most remembered for its dramatic conclusion, which saw Hamilton killed in a duel by Vice President Aaron Burr. But the full story of this political genius – a poor immigrant who built himself up from nothing to become one of the nation's most vital architects – has largely been forgotten by history...until now.
Today, Hamilton's fan club is vocal and growing, thanks, in no small measure, to Tony®, Grammy®, and Emmy®-winning composer and actor, Lin-Manuel Miranda's revolutionary musical. With its young cast claiming America's history as its own, Hamilton is redefining how audiences learn about history.
Produced by Academy Award® and Emmy Award®-winning producers RadicalMedia (What Happened, Miss Simone?, Keith Richards: Under The Influence, In the Heights: Chasing Broadway Dreams for PBS) and directed by Alex Horwitz, Hamilton's America delves even deeper into the creation of the show, revealing Miranda's process of absorbing and then adapting Hamilton's epic story into groundbreaking musical theater. Further fleshing out the story is newly shot footage of the New York production with its original cast, trips to historic locations, such as Mt. Vernon and Valley Forge with Miranda and other cast members, and a surprising range of interviews with prominent personalities, experts, politicians, and musicians including President Barack Obama, President George W. Bush. Speaker of the House Paul Ryan, Senator Elizabeth Warren, Secretary Hank Paulson, Secretary Timothy Geithner, Questlove, Black Thought, Jimmy Fallon, John Weidman, Nas and Stephen Sondheim.
Hamilton's America shows just how timeless the hot-button issues of today's America are: immigration, States' rights, debt, income inequality, and race relations. These were the same fights that defined Hamilton's time, and they are the driving force of Miranda's historic work. The film endeavors to brush the dust off American history, much as the musical does, and provide a unique new way for us to view our national heritage and current political landscape.
A unique window into the artistry and research involved in making the show, viewers will witness Miranda at the White House in 2009 performing an early version of what would become "Alexander Hamilton," the first number in the musical and they will also be given an inside view of Miranda as he composes songs in Aaron Burr's Manhattan bedroom. They will travel to Virginia with Christopher Jackson –who was Tony®-nominated for his portrayal of George Washington in the musical – as he reveals his personal struggle preparing for the role, while grappling with our Founder's legacy of slavery. Back in New York, Miranda, who originated the Tony®-nominated role of Hamilton in the musical and Leslie Odom, Jr. – who won a Tony Award® for his portrayal of Aaron Burr – visit the Museum of American Finance to get a deeper understanding of the historical figures they are depicting on stage, including a memorable moment from this research trip, when the two actors brandish authentic 19th-century dueling pistols.