'Fist Fight' Trailer: Ice Cube And Charlie Day Go Mano-A-Mano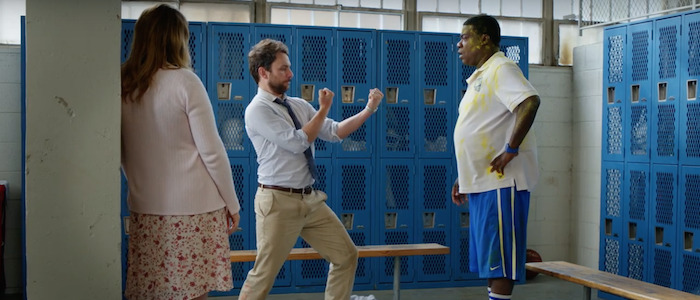 Maybe I'm a man of simple pleasures, but I find it impossible to hate the trailer for any movie that features Charlie Day doing an old-timey boxer pose. So I certainly don't hate the Fist Fight trailer, which looks silly and lowbrow and dumb, but also...maybe funny? I see a lot of funny people in this footage, so this is a situation where I'm fully prepared to keep my fingers crossed.
Fist Fight is built around a very straightforward premise: a mild-mannered English teacher (Day) gets on the side of a fearsome fellow educator (Ice Cube, of course), who challenges him to a fist fight when school lets out. Naturally, Day's character is a puny little weakling and Ice Cube's character is played by Ice Cube. Antics of all varieties ensue, with lots of memorable faces popping up in the margins to offer their support.
Those memorable faces include the reliably funny Jillian Bell, the reliably funny Kumail Nanjiani, and the reliably funny Tracy Morgan. And while I wouldn't call Christina Hendricks, Dean Norris, and Dennis Haysbert reliably funny, I cannot think of a single occasion where I was unhappy to see them on screen. So Fist Fight has that much going for it.
As much as I like so many of the people involved, the trailer itself doesn't quite do it for me. Ice Cube can be very funny when utilized well and Day feels built to play this kind of hyperactive comedic foil, but the jokes on display here fell a little too familiar at first glance.
Fist Fight is the feature debut of director Richie Keen, a television veteran whose credits include Angie Tribeca, New Girl, Maron, and eleven episodes of It's Always Sunny in Philadelphia (giving him that extra connection to Day). The screenplay was written by Van Robichaux and Evan Susser, who are best known for the Funny Or Die series What's Going On? with Mike Mitchell.
Here's the official synopsis:
On the last day of the year, mild-mannered high school English teacher Andy Campbell (Day) is trying his best to keep it together amidst senior pranks, a dysfunctional administration and budget cuts that put jobs on the line.  But things go from bad to worse when he accidentally crosses his much tougher and deeply feared colleague, Ron Strickland (Ice Cube), who challenges Campbell to an old-fashioned throw down after school.  News of the fight spreads like wildfire and ends up becoming the very thing this school, and Campbell, needed.
Fist Fight is set to open on February 17, 2017.