'Phantasm: Ravager' Trailer: Don Coscarelli's Long-Running Horror Series Reaches Its Explosive Conclusion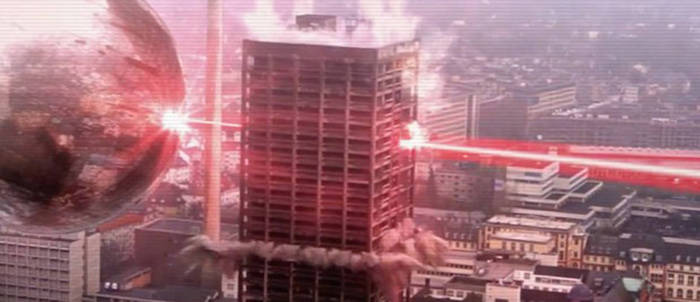 Don Coscarelli's Phantasm is one of my favorite horror movies, a dreamy, surreal, intentionally obtuse and beautifully frustrating gem that has developed a passionate cult following over the decades since its 1979 release. The first three sequels (which arrived in 1988, 1994, and 1998) are a more of a mixed bag, ranging wildly in quality even as they maintain the original's lunatic ambition and imagination. I may not love the sequels as I love the original, but man, I'm sure glad they're around.
That brings us to Phantasm: Ravager, the fifth and final film in the series that is set to make its world premiere at Fantastic Fest this weekend. The film's trailer has arrived to celebrate its impending screening and...well, let's just say that this looks like one for the fans.
It's hard for me to imagine anyone watching the Phantasm: Ravager trailer and deciding "Hey, this looks like something I should see!" unless they were already very familiar with the rest of the series. It looks weird and cheap and seems like it's constantly attempting to bite off more than it can chew. Then again, that's always been part of the appeal with this series – even if Coscarelli couldn't quite pull something off, he tried anyway, damn it!
Ravager finds Coscarelli taking a backseat, serving as a producer and co-writer, while newcomer David Hartman steps in to direct. The footage here certainly looks a lot slicker (and a lot bigger) than what we've seen previous films in the series, but hopefully it maintains the odd and unusual flavor that makes even the worst Phantasm sequels endearing. At the very least, Phantasm: Ravager features the return of Reggie Bannister (who has been starring in these movies since 1979) and the late Angus Scrimm, giving the final performance of his career as the menacing Tall Man.
At the very least, it looks like total fan service. This movie doesn't exist for anyone outside of the already initiated and I can't help but admire its very existence.
Here's a description of the film, courtesy of Fantastic Fest:
Phantasm Ravager is the concluding chapter of Don Coscarelli's always independent, unexpected and subversive Phantasm film series. After spanning four decades, Phantasm Ravager completes the story of intrepid ex-ice cream vendor Reggie (Reggie Bannister, a veteran of all five Phantasm films) in his lifelong pursuit of his nemesis, the malevolent Tall Man. In this final entry, Reggie is forced to confront the mysteries of death which always lie at the dark heart of the Phantasm saga. With actor Angus Scrimm's recent passing, Phantasm Ravager stands as the final on-screen acting performance of this iconic horror star. For the first time, Phantasm creator Don Coscarelli has turned over the directing reins to a new, first-time director in Emmy-nominated animator David Hartman. The entire original cast is back including A. Michael Baldwin, Bill Thornbury, Reggie Bannister, Kat Lester and Angus Scrimm.
Fantastic Fest will also screen the 4K remastered version of the original Phantasm, which was meticulously restored by Bad Robot. When I interviewed Coscarelli earlier this year, he told me the whole story – it seems that the film's fan base includes J.J. Abrams and many of the people he employs. Here's the trailer for the re-release:
The remastered version of Phantasm and Phantasm: Ravager will be available on VOD starting on October 4, 2016 before opening in some theaters on October 7, 2016.