VOTD: Robert Downey Jr., Mark Ruffalo & Lots Of Famous People Hilariously Implore You To Vote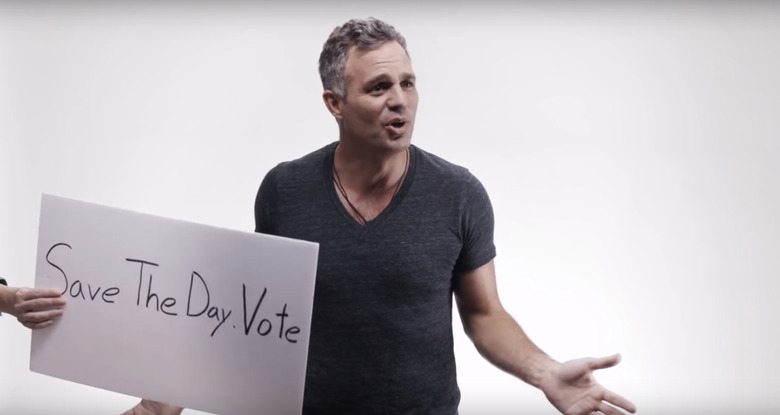 Famous people are used to shill for politicians all the time. But unlike making a decision on which soft drink, pizza or shoes you're going to buy, choosing to vote is a much bigger deal. That's why a new campaign called Save the Day has called upon an endless array of famous people to encourage you to vote.
Robert Downey Jr., Mark Ruffalo, Keegan-Michael Key, James Franco, Julianne Moore, Stanley Tucci, Nathan Fillion and a bunch more familiar faces (and some not so familiar) were rounded up to create this video that encourages people to register to vote. However, while this starts out like any other pro-voting campaign, it takes one hilarious turn right after the other, right down to a promise made by all the celebrities that Mark Ruffalo is tragically unaware of. Just watch the video below.
Here's the Save the Day campaign video straight from the organization's YouTube channel:
There are so many great moments in this video, not to mention half of the cast of The Avengers. Though it's getting to the point that at least one person in every movie we see will either be an Avenger or part of the Marvel cinematic universe. However, the reason that there are a lot of Avengers cast members here is because the Save the Day initiative is spearheaded by director Joss Whedon. He apparently even shelved plans for his next movie to give this project his full attention.
Even though this video does skew towards hating on a certain candidate, albeit without supporting any of the others, regardless of who you vote for this election, it's important to make your voice heard and cast your vote. Plus, this video promises that Mark Ruffalo will do a nude scene in his next movie if you all register to vote. That's a pretty big deal. Or at least we hope it's a big deal. We really won't know until he takes his clothes off.