Cool Stuff: 'Willy Wonka And The Chocolate Factory' Gets A Scrumdiddlyumptious Laurent Durieux Print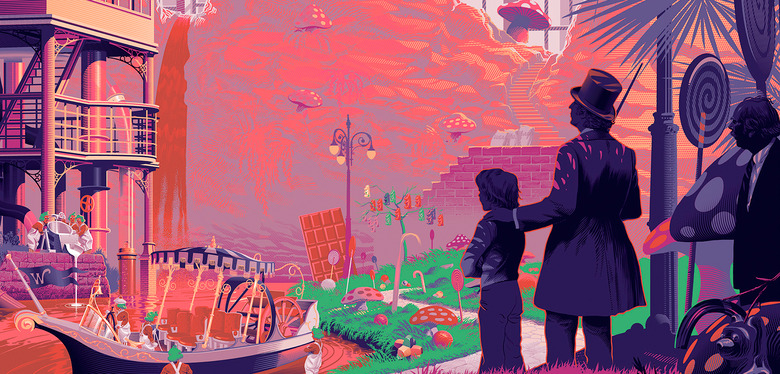 Earlier this month, we got the sad news that comedy icon Gene Wilder had passed away. Since then, there have been honorary screenings around the country of movies such as Blazing Saddles, Young Frankenstein and Willy Wonka and the Chocolate Factory. Now you can remember Gene Wilder with some gorgeous new artwork as well.
Laurent Durieux is one of our favorite pop culture artists, having just recently delivered a fantastic print for Raiders of the Lost Ark, and now he's giving Willy Wonka and the Chocolate Factory his artistic touch with a gorgeous new print going on sale Friday. Check out the Laurent Durieux Willy Wonka and the Chocolate Factory print after the jump.
Here's the standard version (left) and variant of Laurent Durieux's Willy Wonka and the Chocolate Factory print:
Each print is a 24x36 14-color screen print. The standard version has an edition of 345 that will cost you $70 while the variant has an edition of 145 and will cost you $100. In addition, each version has a foil edition with only 25 available of each. And for the more hardcore collector, there will be a canvas edition for $250 with 15 crafted after the standard version and 15 crafted after the variant version.
Dark Hall Mansion will have these prints on sale on September 23rd at 12:30pm PT at their online store. And make sure you take a close look at the prints to see all the finer details. Can you spot the Everlasting Gobstopper and Slugworth?
Also, if you happen to be in the area of Kalamazoo, Michigan, the Alamo Drafthouse location there is hosting what they call the Ultimate Willy Wonka Party. They're having a screening of Willy Wonka and the Chocolate Factory followed by a Q&A with grown up child stars Julie Dawn Cole and Paris Themmen, aka Veruca Salt and Mike Teevee. There will also be loads of candy, bubbles, a special edition poster signed by both of them and more. There a 7pm and 7:45pm show, and I'll be at the former, so feel free to say hello!