A New 'Hearts In Atlantis' Movie Joins The Stephen King Cinematic Renaissance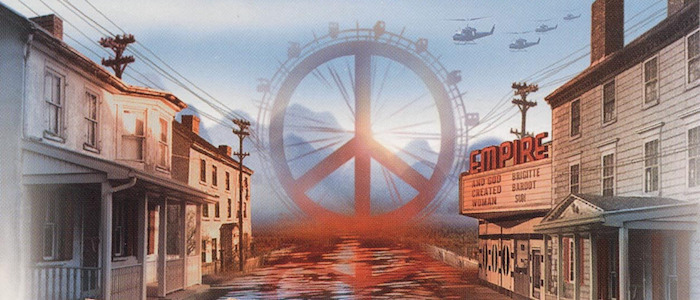 Just when you thought they were done announcing new adaptations of Stephen King stories, a few more drop out of the sky. Earlier today, we learned that The Dark Tower IV: Wizard and Glass would be adapted as a television companion to the first The Dark Tower movie arriving next year. And now, King's Hearts in Atlantis is coming to the big screen. Again. Sort of. In terms of titles, this is going to be one of the trickier King adaptions to explain.
Here's the necessary background: Hearts in Atlantis was originally published in 1999 as a collection of novellas and short stories (some supernatural, some not) all connected by various characters and spanning several decades. Collectively, they are a critical examination of the baby boomer generation and its failures. Some segments are more memorable than others, but they're all good. Two of the stories, "Low Men in Yellow Coats" and "Heavenly Shades of Night Are Falling," were adapted into the pretty good 2001 movie titled Hearts in Atlantis...which is strange, because one of the other stories in the book is titled "Hearts in Atlantis."
Anyway, Variety reports that director Johannes Roberts is set to helm an actual movie adaptation of the story "Hearts in Atlantis," but to avoid confusion with the 2001 movie called Hearts in Atlantis that didn't adapt "Hearts in Atlantis," it will be retitled Hearts. Whew. Okay.
Unlike the stories from this collection that actually made it to the big screen, "Hearts in Atlantis" is devoid of traditional fantasy and horror elements. The story follows a group of young men attending the university of Maine in 1966 who find their deferments from the Vietnam draft at risk when they all become hopelessly addicted to an ongoing game of Hearts. It's a beautifully written and straightforward story and a film version would have more in common with The Shawshank Redemption and Stand By Me than your typical King movie.
Roberts, who co-write the screenplay with Ernest Riera, is a big fan:
As a teenager, discovering Stephen King's books and their cinematic counterparts was what led me to want to become a filmmaker. The story Hearts in Atlantis is my favorite piece of King's writing. Turning this story into a movie had been a lifelong dream.
Although they aren't adapting one of King's horror stories, Roberts and Riera have experience in the genre, having directed The Other Side of the Door and 47 Meters Down.
Hearts is looking to begin production in 2017, a year that will give us a Dark Tower movie and a feature adaptation of It. An adaptation of Gerald's Game is also in the works and that new version of The Stand is still waiting in the wings. It's a good time to be a Stephen King fan.