'Idiocracy' Returning To Theaters For 10th Anniversary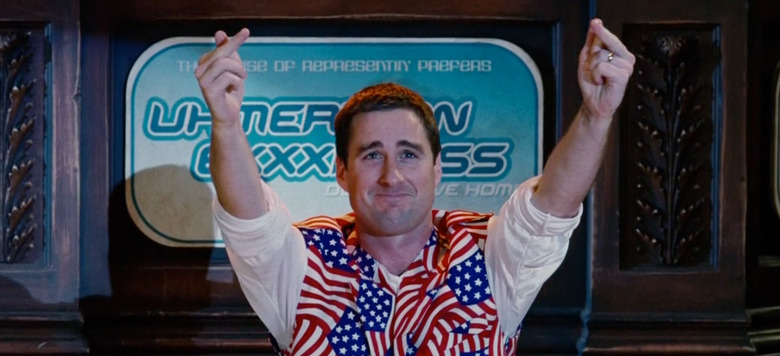 This election season has been something else. There has been so much nonsense and stupidity thrown around in this intense political climate that many have pointed to the fact that Mike Judge's cult favorite comedy Idiocracy predicted that this kind of thing would eventually happen. In fact, there were supposed to be some Idiocracy-themed political ads that would have went after candidate Donald Trump, but they were axed by 20th Century Fox, and you can probably guess why.
But that's not stopping Mike Judge and Idiocracy from making waves this election season. This year happens to mark the 10th anniversary of the comedy that features some rather insightful social commentary, much of which has become eerily accurate in the wake of the current election, and to celebrate; the film will be coming back to theaters next month thanks to Alamo Drafthouse.
Get the details on Idiocracy returning to theaters after the jump.
Alamo Drafthouse has teamed with the network of Art House Convergence Theaters and local League of Women Voters chapters to bring Idiocracy back to theaters on October 4th. A live Q&A will take place after a screening of the film at the Aero Theatre in Santa Monica, CA at 6:45 pm PT featuring writer/director Mike Judge and co-star Maya Rudolph. And the good news is this Q&A will be streamed to dozens of anniversary screenings that will be happening concurrently around the country.
Here's a list of all the theaters confirmed for the screening so far, but more may be added:
Aero Theatre, Santa Monica CA
Alamo Drafthouse, Ashburn VA
Alamo Drafthouse Lakeline, Austin TX
Alamo Drafthouse South Lamar, Austin TX
Alamo Drafthouse Slaughter Lane, Austin TX
Alamo Drafthouse Village, Austin TX
Alamo Drafthouse, Littleton CO
Alamo Drafthouse, Dallas TX
Alamo Drafthouse, Richardson TX
Alamo Drafthouse, El Paso TX
Alamo Drafthouse Mason Road, Katy TX
Alamo Drafthouse Vintage Park, Houston TX
Alamo Drafthouse, Kansas City MO
Alamo Drafthouse, Laredo TX
Alamo Drafthouse, Lubbock TX
Alamo Drafthouse, New Braunfels TX
Alamo Drafthouse, Yonkers NY
Alamo Drafthouse, Omaha NE
Alamo Drafthouse Park North, San Antonio TX
Alamo Drafthouse, San Francisco CA
Alamo Drafthouse, Winchester CA
Cine Theatre, Athens GA
Cinema Arts Centre, Huntington NY
Cinema Detroit, Detroit MI
FilmBar, Phoenix AZ
IFC Center, New York NY
Michigan Theater, Ann Arbor MI
North Park Theatre, Buffalo NY
Nickelodeon Theatre, Columbia SC
Princeton Garden Theatre, Princeton NJ
Robinson Film Center, Shreveport LA
State Theatre, Traverse City MI
Stay tuned to the Alamo's theater list, because more locations might be added as the screening date gets closer. Keep in mind that since the screenings around the country will be happening concurrently, they'll all be at different times depending on your time zone to allow everyone to watch the live stream Q&A at the same time.
If you find yourself too far away from any of these theaters to enjoy the screening, Alamo invites you to watch the movie from the comfort of your own home starting at exactly 7 pm PT and then watch the Q&A on Facebook Live afterwards. Fans watching from home will be able to submit questions to the live Q&A by using the hashtag #IdiocracyToday on Twitter.
In addition, Alamo Drafthouse commissioned Mondo to create an Idiocracy shirt that will be available at their online store the day of the screening. Some of the proceeds will help support local League of Women Voters chapters to support their non-partisan efforts to register and educate voters.
If you've somehow never seen Idiocracy, here's the trailer and official synopsis:
In 2005, average in every way private Joe Bowers (Luke Wilson) is selected to take part in a secret military experiment to put him in hibernation for a year along with a woman named Rita (Maya Rudolph). The slumbering duo is forgotten when the base they are stored on is closed down and are left in stasis until 2505. When they finally wake up, they discover the average intelligence of humans has decreased so much that Joe is now the smartest man in the world. Now it's up to an average Joe to get human evolution back on track.