'X-Men: Apocalypse' Bloopers: James McAvoy Creeps, Oscar Isaac Boogies & More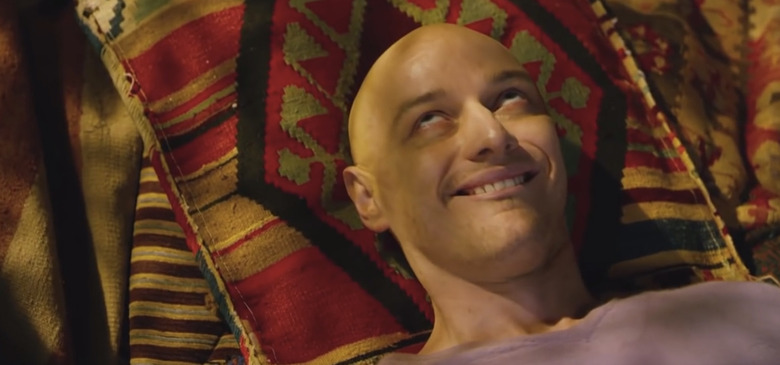 We may receive a commission on purchases made from links.
When you're dealing with the end of the world, things can get deadly serious. But as you will see on the set of X-Men: Apocalypse, even in the face of grave danger, the cast makes plenty of time to get wacky. Bloopers are always an amusing part of the filmmaking process, but when then outtakes feature characters in full superhero wardrobe, they're just that much more entertaining.
If you ever wanted to see Oscar Isaac dance in the creaky Apocalypse suit, Michael Fassbender flirt with James McAvoy, or Jennifer Lawrence elbow someone in the face, you can see all that and more in the X-Men Apocalypse bloopers reel after the jump.
James McAvoy and Michael Fassbender appear to be the goofiest on set. Fassbender even tries to get McAvoy to break character when he's doing a rather serious scene, and the latter doesn't look like he's amused as he could be. Oscar Isaac is close behind in wackiness, dancing plenty and choosing to watch "the Roseanne Barr" on TV instead of "learning" at one point.
Other notable highlights include Rose Byrne having trouble standing up straight while being held captive in William Stryker's Alkaki Lake base, presumably because the shoes she's wearing don't work well on the metal grated floor. Also, we get to see just how much Jennifer Lawrence really does love eating as she's desperate to break for lunch in a few scenes.
However, I think the real scene stealer is Nicholas Hoult hyping up the X-Men while Mystique gives her movie-ending speech. I wouldn't mind seeing a world where Beast is that pumped up all the time, like some kine of high school football team's assistant coach.
This blooper reel can be found among the special features on X-Men: Apocalypse when it hits Blu-ray and DVD on October 4th.
Since the dawn of civilization, he was worshipped as a god. Apocalypse, the first and most powerful mutant from Marvel's X-Men universe, amassed the powers of many other mutants, becoming immortal and invincible. Upon awakening after thousands of years, he is disillusioned with the world as he finds it and recruits a team of powerful mutants, including a disheartened Magneto (Michael Fassbender), to cleanse mankind and create a new world order, over which he will reign. As the fate of the Earth hangs in the balance, Raven (Jennifer Lawrence) with the help of Professor X (James McAvoy) must lead a team of young X-Men to stop their greatest nemesis and save mankind from complete destruction.