'Jumanji' First Look: Dwayne Johnson, Kevin Hart, Jack Black & Karen Gillan Are Deep In The Jungle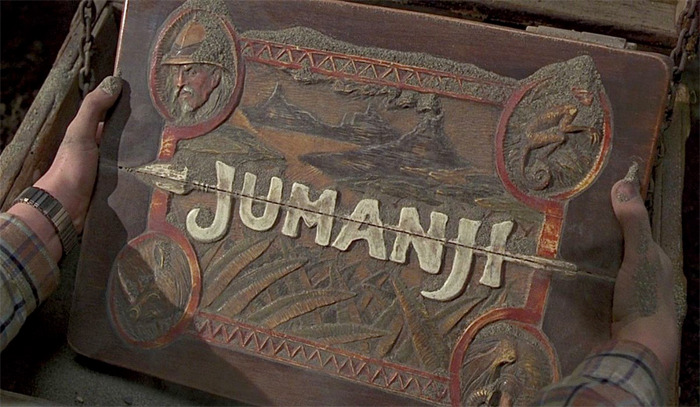 At the beginning of the month, Dwayne Johnson offered us a hint as to what we can expect him to be doing in Sony Pictures new take on Jumanji, by way of some concept art. The movie isn't a reboot, but rather a continuation of the events that happened in the first film from 1995, complete with some kind of tribute to Robin Williams planned. Now the first photo from the set has been released, and it's clear this will be much different from the original Jumanji adaptation.
Check out the first Jumanji photo after the jump.
Here's the photo posted to Instagram by co-star Kevin Hart late last night:
Day 1 of shooting "Jumanji" is officially in the can. We had a amazing first day. The chemistry & energy of our cast & crew was beyond amazing!!!! This movie is going to be dope as hell....Can't wait to get back to work tomorrow @therock @karengillanofficial & jack black!!! #Jumanji
A photo posted by Kevin Hart (@kevinhart4real) on
As you can see, Central Intelligence stars Dwayne Johnson and Kevin Hart are joined by Jack Black and Karen Gillan, all decked out as a batch of the most cliched jungle explorers. Dwayne Johnson has an Indiana Jones or Romancing the Stone vibe about him (don't forget that his name is Dr. Bravestone), Jack Black has a late 1800s/early 1900s jungle explorer style to his character, Karen Gillan is clearly a makeshift Lara Croft, and Kevin Hart just looks like a guy who was forced to go into the jungle, but doesn't want to be there at all.
So what can we make of all this? We don't have any details on the story yet, but we know the basic concept behind Jumanji. However, we've never spent time where the elements of the titular board game actually come from. Perhaps all these characters have been sucked into the game at different periods in time, and now they're all teaming up to finally get out. Or maybe they're all from the same time period, and they're recruited to find someone else lost in the game.
From this photo, I'm hoping that we're going for more of a Land of the Lost kind of comedy instead of a more serious action adventure with humor scattered throughout. These characters look like caricatures, and I feel like the only way to make them believable is to play it up for laughs. And for what it's worth, I think Land of the Lost is sorely underrated, so I'm totally fine with them going for that kind of comedic angle
Since Jake Kasdan (Sex Tape, Walk Hard: The Dewey Cox Story) is at the helm, we know the comedy presence will be strong, but we're still not entirely sure what we're getting into with this new Jumanji. The film arrives July 28th, 2017.