New 'DuckTales' Logo And Art Revealed For New Disney XD Series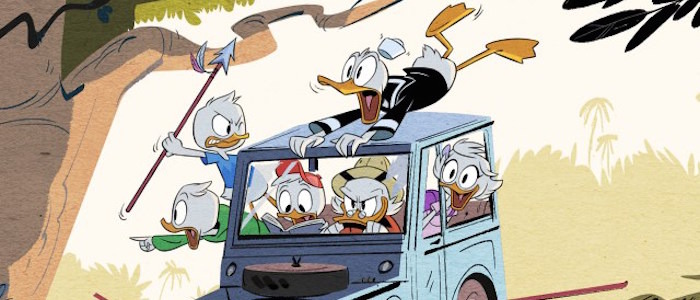 We first learned that DuckTales was being revived as a new Disney XD series back in early 2015, but it took over a year for our first look at the show to arrive. And that single preview image (sampled on the top of this article) left quite an impression. While some purists and fans of the original animated series may scoff, I instantly fell in love with the new arty style, which looks to blend classic Disney character design with plenty of stylized, modern touches. It feels familiar while also feeling fresh. That's a tricky combination.
However, those looking for one aspect of this series to match the show they grew up with can take comfort in the new logo, which has arrived looking pretty much the same as ever.
The new logo was revealed over at Oh My Disney and you'll have to pull up an image of the image of the original show's logo and place them side by side if you want to detect any significant differences. For the record, this one is slightly more angular and the pattern on the font is new. Other than that, this is definitely a case of not breaking something that doesn't need to be fixed.
It remains to be seen whether or not I'll actually hunker down and watch the new DuckTales when it premieres. I enjoyed the original cartoon when I was younger, but I'm not sure if any lingering traces of nostalgia will be enough to drag me to it. However, I have grown increasingly fond of the work of cartoonist Carl Banks, who created Duckburg and its various inhabitants while writing and illustrating Disney comics in the 1940s. He surrounded Donald Duck with an extended family (including Uncle Scrooge and nephews Huey, Dewey and Louie) and sent them on all kinds of strange, globetrotting adventures. In an age where so many Disney characters are treated as mascots and little more, Banks' work feels more refreshing than ever. His stories never shy from ruffling feathers, if you'll pardon the pun.
In other words, if the new DuckTales can tell fun adventure stories in the Carl Banks vein, I could be convinced to give it a spin. After all, that art is wonderful and every image we've seen so far has emphasized these characters engaging in exploration and derring-do...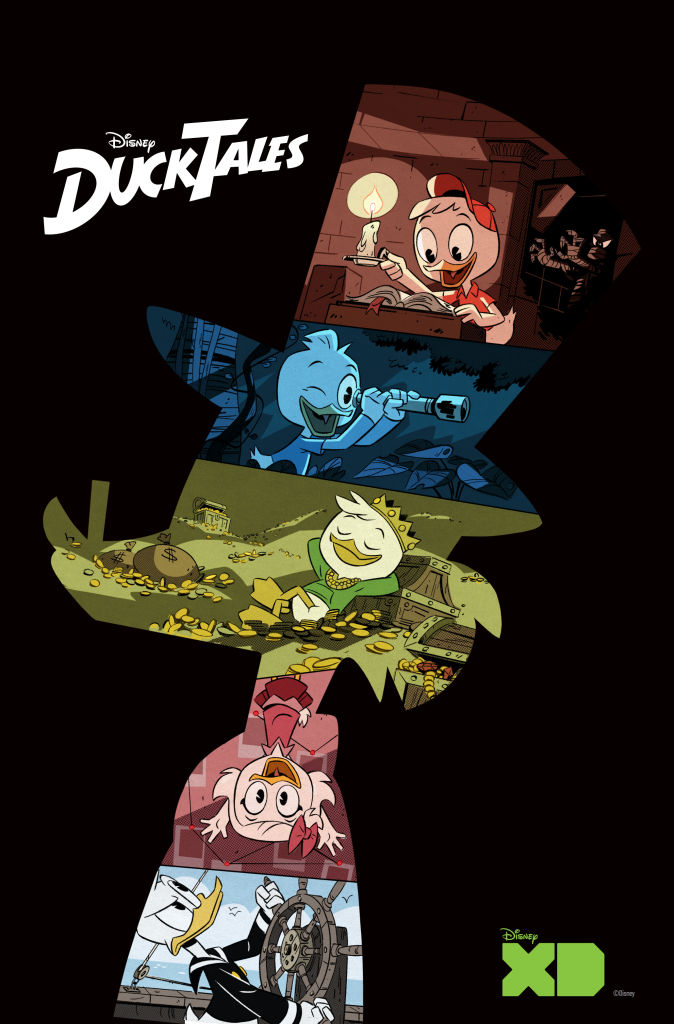 DuckTales is set to premiere in 2017. There's no official synopsis yet, but here's how the series was described in the initial press release...which uses the phrase "high-flying adventures worldwide." Huh. Maybe I will have to check this out...
The new series' adventures will once again take viewers along as Scrooge McDuck, his curious and mischief-making grandnephews—Huey, Dewey, and Louie—and the optimistic-yet-temperamental Donald Duck embark on high-flying adventures worldwide. Other beloved characters slated to be in the new stories are: Duckworth, Gyro Gearloose, Launchpad McQuack, Flintheart Glomgold, Magica DeSpell & Poe, Ma Beagle and the Beagle Boys (Burger Beagle, Bouncer Beagle), Mrs. Beakley, and Webbigail Vanderquack.