A 'Game Of Thrones' Spin-Off Could Happen, But Not With The Current Showrunners [UPDATED]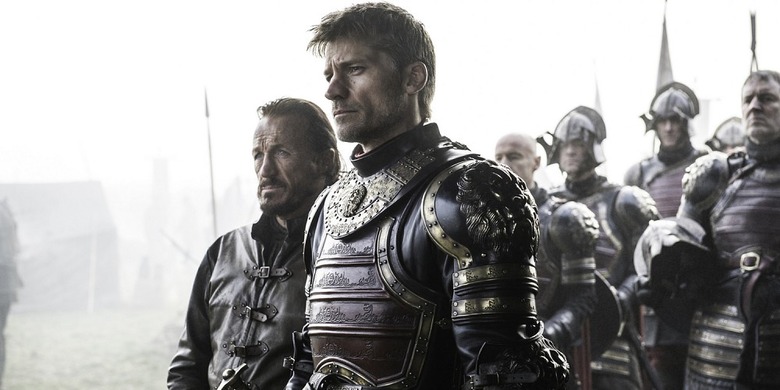 Update: This article has been updated with quotes from A Song of Ice and Fire creator and author George R.R. Martin. The short version: don't get your hopes up. Yet.Game of Thrones season 6 was a monster at the at the 2016 Emmy Awards, winning Best Drama Series, Directing for a Drama Series, and Writing for a Drama Series. Toss in the various technical awards the show also snagged and you're looking at a massively popular, critically acclaimed series that has now won a record 38 primetime Emmys. So yeah, of course HBO wants to remain in the Westeros business for as long as possible.
However, we probably shouldn't expect series creators and showrunners David Benioff and D.B. Weiss to stick around beyond the current iteration of the series, which is set to conclude with two shortened final seasons. There could be a Game of Thrones spin-off yet, but it would have to be under the watchful eye of someone else.
Speaking backstage after their Emmy victory (via TV Line), Benioff and Weiss were asked about a potential prequel to Game of Thrones. After all, the history of Westeros is as rich and detailed as any fictional universe ever created and there is plenty of material to draw upon. Plus, HBO has made it perfectly clear that they're open to more Game of Thrones. However, Benioff made it clear that this is the end of line for him and Weiss, directing further questions to A Song of Ice and Fire author George R.R. Martin:
"You might want to ask George about that. It's a great world that George created. It's a very rich world. I'm sure there will be other series set in Westeros. But for us, this is it."
Can you blame them? Game of Thrones is one of the most successful television shows in the history of the medium, but it's also the kind of production that rips the hair from your heads and strips years from your life. At this point, with the ending in sight, Benioff and Weiss are probably thinking about all of the sleep they'll be able get. And after that, they can start thinking about all of the original passion projects they can get made after cracking something as tough as Game of Thrones.
Martin himself was careful not to add any fuel to speculative fire, admitting that yes, there are plenty of ways in for a potential prequel series...just don't ask him to talk about it right now:
"I do have thousands of pages of fake history of everything that led up to Game of Thrones. There's a wealth of material there, and I'm still writing more, but at the moment, we still have this show to finish, and I still have two books to finish. So, that's all speculation."
All of this could always change, but it aligns with what Casey Bloys, President of HBO Programming, said about a potential spin-off a few months ago. There have been talks, but no one is committed yet:
"We've talked about it. It's something I'm not opposed to but it has to make sense creatively. The guys weren't opposed to it, but there are no concrete plans."
Of course, there is potential prequel series already gift-wrapped and awaiting adaptation as we speak. George R.R. Martin's Tales of Dunk and Egg novellas, which follow two familiar characters 90 years before the events of Game of Thrones, are wonderful and rich and would make the perfect foundation for a future series. At the very least, these three stories ("The Hedge Knight," "The Sworn Sword," and "The Mystery Knight") would make for a trilogy of fantastic TV movies that would enrich the Game of Thrones world in a pretty significant way.
We'll check back in on this in about two years, when Game of Thrones reaches its conclusion.