Watch Jimmy Kimmel Ride A Dragon, Do Carpool Karaoke & More In 2016 Emmy Opening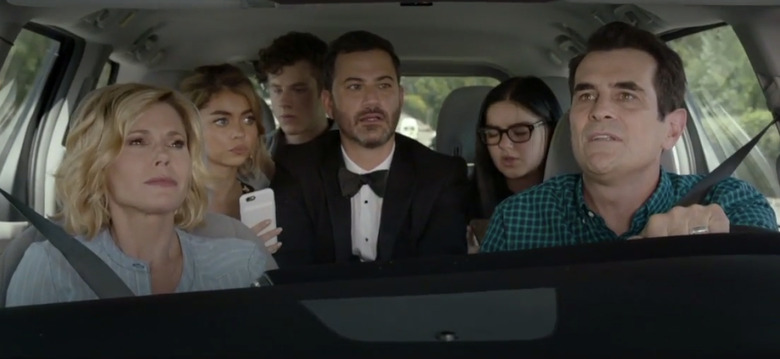 Last night ABC's late night host Jimmy Kimmel hosted the 68th Annual Emmy Awards, and he made the typically long-running ceremony a little more tolerable with his quick wit. As is customary for the show's host, Kimmel partook in a fun opening number that saw him meeting up with some familiar faces from the world of television, all of which were nominated in some form for the awards handed out throughout the night.
After the jump, watch Jimmy Kimmel do some carpool karaoke with James Corden, hitch a ride with a certain modern family, run into a a TV president and even ride a dragon in the 2016 Emmy opening. As a bonus, you can also watch Matt Damon showing up during the ceremony to mock Jimmy Kimmel for losing the Emmy he was nominated for last night.
Did anyone else have to do a double take when Kimmel found Jeb Bush in the front seat of President Selina Meyer's (Julia Louis-Dreyfus) presidential car? At first I thought it was Chevy Chase and then had to completely readjust my perspective of what was happening when it became clear that it wasn't him.
Anyway, in addition to the obvious cameos, there are some smaller references to be found in the video, including a van for Hawkins Power & Light from Stranger Things. The show wasn't nominated for any Emmys at last night's ceremony but that's because it debuted too late to be eligible. I wouldn't be surprised if we saw the show have a decent presence at the awards next year.
Finally, in addition to Jimmy Kimmel's opening shenanigans, one of the other fantastic highlights was his frequent target Matt Damon taking the time to mock the late night host for losing the Emmy for Outstanding Variety Series:
If you missed the Emmys last night, get the full list of winners right here.