Louis Theroux's My Scientology Documentary Trailer: More Entertaining Than 'Going Clear'?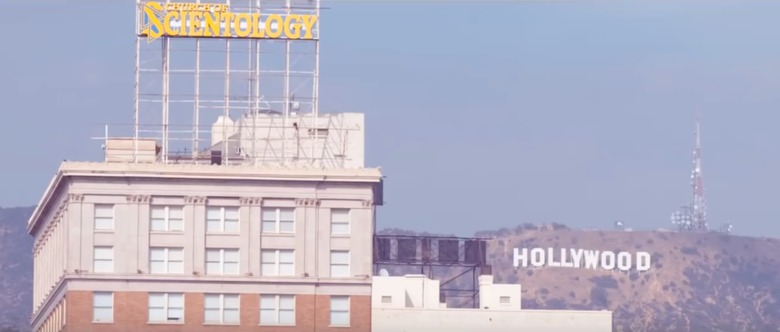 BBC Film Productions has released a trailer for Louis Theroux's My Scientology Documentary which seems to take a more comical approach to the subject of the Church of Scientology. Structured in a first-hand journey format as we've seen from Michael Moore and Morgan Spurlock, the film tries to confront the church to get some answers. And as expected, the Church of Scientology wants nothing to do with Theroux. Watch the My Scientology Documentary trailer after the jump.
Louis Theroux's My Scientology Documentary Trailer
I am fascinated by the topic of Scientology. But I wasn't a fan of Alex Gibney's 2015 documentary Going Clear: Scientology and the Prison of Belief. I saw the film at its Sundance Film Festival premiere and was shocked at how much I was disappointed by the movie. Like a lot of Alex Gibney's films, it's a lot of talking head interviews. But what disappointed me was that it did very little to tell us anything new or explore the Church of Scientology from an unusual or different angle. It was low depth swimming for people who had never read anything before about Scientology.
I'm not sure this documentary will provide any more insight than Going Clear, but it looks like it will be a thousand times more entertaining. The film currently has 15 reviews published according to Rotten Tomatoes, with only one negative take resulting in a 93% Tomatometer rating.
The Herald Sun says "It can sometimes be amusing viewing, but like Theroux's finest TV work, it is always both revealing and disturbing in equal measure."
We Got This Covered says "As fascinating and bizarre as Scientology itself, My Scientology Movie is unique among documentaries for its individual, humorous approach to a very strange subject."
Theroux has said the following about My Scientology Documentary:
"More than 10 years ago, I approached the church to see if they might let me in to make a documentary. I thought I might be able to bring a sense of nuance and perspective to people's understanding of a faith that has been much ridiculed. Just as I have done with other non-mainstream stories, I hoped to see it from the inside and make a human connection with its clerics and congregants. But I was repeatedly turned down." ... "In the course of making my film I came to believe I was being tailed by private investigators, someone in Clearwater, Florida (Scientology's spiritual mecca) attempted to hack my emails, we were filmed covertly, I also had the police called on me more than once, not to mention a blizzard of legal letters from Scientology lawyers," says Theroux. "And yet, at every step I remained open to Scientology's good points and tried to see it for what it is: a system of belief that is not so different from other religions, capable of enlarging the soul as well as crushing the spirit."
And here is a previously released clip from the film:
And a previously released international trailer, which seems to get a bit more serious:
Louis Theroux's My Scientology Documentary is in theaters in Australia right now for a limited time, and will be available on DVD & digital in the AU beginning October 5th, 2016. My Scientology Movie will be released in the UK in select cinemas beginning on October 7th, 2016 with a Nationwide Live broadcast Q&A with Louis and Adam Buxton on October 10th. For participating cinemas visit www.myscientologymovie.film. No word on when the film will be released in the US.