Vincent D'Onofrio's Kingpin Will Return To Marvel's Netflix Universe, But When?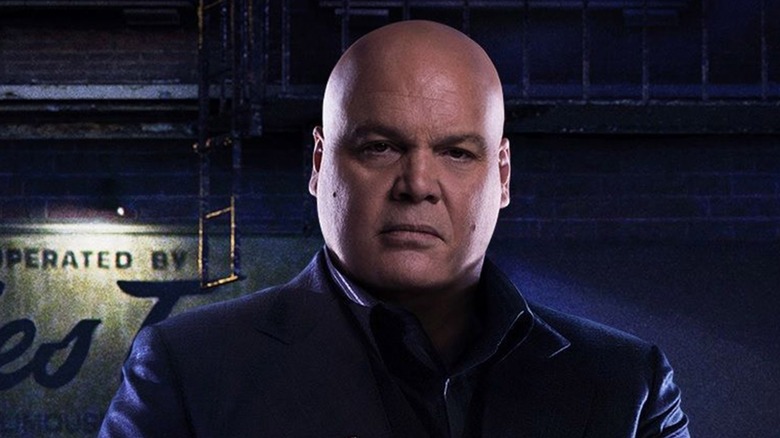 One of the best parts of Daredevil Season One was Vincent D'Onofrio as New York City crime lord Wilson Fisk aka Kingpin. The character had a significantly reduced role in the second season as Punisher and Elektra were brought into the mix. And now that Netflix has put Daredevil on hold to launch Luke Cage (which premieres on September 30th) and Iron Fist, leading into their 2017 superhero team-up event The Defenders, we don't know if Vincent D'Onofrio's Kingpin will appear again in Marvel's Netflix universe. But D'Onofrio seems to know that Kingpin will return, but he's not saying when it will happen.
Latino Review talked with D'Onofrio while he was promoting his appearance in Antoine Fuqua's The Magnificent Seven at the Toronto International Film Festival. The actor does seem to know when Kingpin will make his return:
"That I can't answer. I do know, but I can't answer... so take that how you will. Jeff and Charlie (Cox) and Netflix love Kingpin, and so, Kingpin is good for Marvel's television stuff and I think they agree."
That said, D'Onofrio reveals that he isn't signed on for a multi-series/season contract like some of the other Marvel actors:
"There's no giant commitment for me at Daredevil. Like I didn't have to sign my life away at all. When Jeff tells me there's something coming up and if I'm available, I'll be there. And because it's written so well, I'm going to show up. I'm going to do everything I can because the writing is so good. And then there's a company like Netflix and they're not pressuring you either. They just want good material, good content. They give you money to make good content, so they're not pressuring actors to sign their life away either.... I think that there's this common ground where they say, 'Look, if the material is good are you going to show up?' and I said, 'Definitely'."
This is interesting because you would think that Marvel and Netflix would want to sign someone like D'Onofrio to a recurring character contract of some kind. But it sounds like they don't need one as D'Onofrio knows that the character makes for great entertainment and is good for his career. But after hearing this, the rumors that the Marvel Netflix actors haven't signed on for potential movie appearances (like the upcoming Avengers: Infinity War) sounds more likely than it did before.
The fact that D'Onofrio seems to know when he will return in a Netflix series appears to suggest that it's going to happen sooner rather than later. I definitely wouldn't be surprised to see him show up in The Defenders if he doesn't somehow make an appearance in the other solo hero shows that will be released before then.
And for those of you who have maybe forgotten how great Fisk was in season one of Daredevil, here is a video to remind you: