'The Bye Bye Man' Trailer: One Two, Doug Jones Is Coming For You...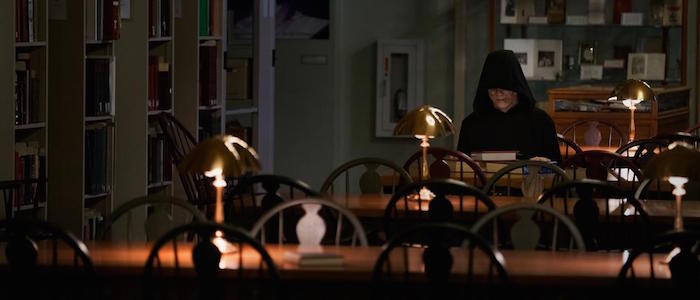 I'm usually all-in for any horror movie that feels confident enough in its chief monster to make its name the title of the film, so color me intrigued by the upcoming The Bye Bye Man. Seemingly inspired by everything from Freddy Krueger to the Slender Man, this guy is played by the imposing Doug Jones and he makes a decent enough impression in the trailer for the film. But what about everything else around him?
The Bye Bye Man looks like a fairly meat-and-potatoes experience. There's a bunch of attractive young people, a creature that wants to kill them, and a cop (played by Carrie-Anne Moss) who doesn't believe them until it's too late. And, of course, there are plenty of jump scares to go around. The most interesting aspect of this trailer is the idea that the Bye Bye Man only has power if people are aware of him and tell other people about him, spreading his influence like a viral infection. There are shades of Pontypool there, but also shades of traditional folklore and modern internet "creepypasta." If enough people say something is true, can it become real?
Hopefully, The Bye Bye Man digs into this and doesn't just exist to have a dark figure jump out at teens for 90 minutes.
The Bye Bye Man Trailer
If you ever have a few moments to kill, do yourself a favor and look at the IMDB page of Doug Jones. The very tall and rail-thin actor has been working steadily since the late '80s and his credits are often jaw-dropping, with everything from small horror movies to massive blockbusters taking advantage of his unique physique and mime training. He was an evil clown in Batman Returns and the lead "Gentleman" in Buffy the Vampire Slayer. He has played some monsters for Guillermo del Toro, turning in memorable physical performances in Hellboy and Pan's Labyrinth (he is also set to play a creature in the upcoming The Shape of Water). The names of his characters are often amusing when read side-by-side: sewer imp, thin infected man, monster, hero alien, mummy, the clown in office, mother bug, yeti, Spy Morlock, etc. Even if you don't know his name, you've seen Doug Jones...possibly buried under a pile of latex.
I just hope that, if nothing else, The Bye Bye Man gives Jones something interesting to do. Here's the official synopsis:
When three college students move into an old house off campus, they unwittingly unleash a supernatural entity known as The Bye Bye Man, who comes to prey upon them once they discover his name. The friends must try to save each other, all the while keeping The Bye Bye Man's existence a secret to save others from the same deadly fate.
The Bye Bye Man is directed by Stacy Title and opens on January 13, 2017. Here's the poster for the film: