Cool Stuff: 'A Game Of Thrones: The Illustrated Edition' Shows Off A Very Different Westeros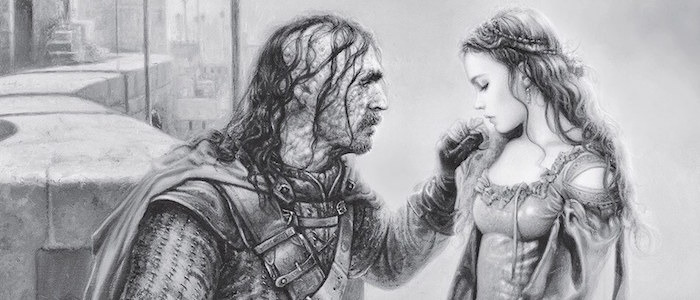 Like anyone with a problem, I blindly pre-ordered the upcoming A Game of Thrones: The Illustrated Edition a few months ago despite already owning several copies of George R.R. Martin's fantasy masterpiece. What can I say? I have an unhealthy addiction to all things Westeros. But now that preview images from this fancy schmancy new edition have begun to arrive online, I'm starting to feel less guilty about pulling the trigger so early. This book looks lovely, offering a look at the Seven Kingdoms and its characters that are more in line with Martin's text than the massively popular HBO series it inspired.
Vanity Fair premiered ten images from the book, which will be a hardcover copy with 73 illustrations scattered amongst the 896 pages. While some of the pictures will be familiar to fans, having already graced the likes of calendars and board games and what-not, many of them are brand new, created specifically for this edition. Eight of the most iconic images have been produced in color.
The article also features several quotes from Anne Groell, who has served as an editor on Martin's A Song of Ice and Fire books since the first entry. Here she is trying to find the best possible image for each chapter of the book, even those without a singular and standout moment:
I made a list of all of the images we [already] had that were relevant to just A Game of Thrones. Then I went through the book, chapter by chapter, and tried to figure out, 'Where would our existing art be able to go? Then, what does that leave me?' [...] O.K., this is a chapter about politics. We had an illustration of crossed swords and hands, and I was like, 'Why not? Let's do swords!'
Of course, Martin himself was also involved in the process, working with artists to ensure that each famous castle and other elements (like the Iron Throne) were more in line with his imagination. As you can see in some of the images below, these book-accurate takes on the characters often differ considerably from their television counterparts, with Ned Stark and his children all looking considerably younger. Others, like Sandor Clegane, still manage to resemble the version you've seen on TV.
I've included a few of my favorite images from Vanity Fair's preview in the gallery below, but you'll have to follow the link above to check out the rest. A Game of Thrones: The Illustrated Edition arrives on October 18, 2016. You can preorder the book on Amazon for only $30.
Game of Thrones Illustrated Edition Images