'Nocturnal Animals' Trailer Teaser: Tom Ford Explores The Past With Amy Adams And Jake Gyllenhaal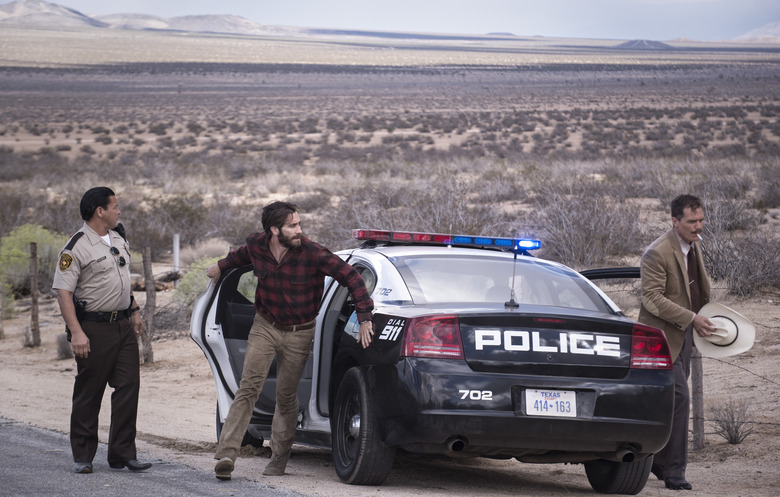 The first wave of reviews for Tom Ford's Nocturnal Animals are mostly positive. The critics who aren't particularly taken with Ford's romantic crime thriller describe it as a hollow piece of work. Ford's moving debut A Single Man received similar criticisms from its few detractors, so it sounds like we should expect a similar response to his latest film, although it looks and sounds like a completely different movie.
Below, watch the Nocturnal Animals teaser for the trailer.
Nocturnal Animals stars Amy Adams as an art gallery owner disturbed by her ex-husband's (Jake Gyllenhaal) latest manuscript. In the story, which Ford and Adams' character visualize, a father (Gyllenhaal, playing another role) is driving through the vast, empty landscapes of West Texas with his wife (Isla Fischer) and daughter (Ellie Bamber). The family runs into some trouble when they cross paths with a gang led by Ray (Aaron Taylor-Johnson). It's a gruesome tale Adams' character interprets as a threat, as she begins seeing parallels between her past and her ex-husband's novel. Based on Austin Wright's novel "Tony and Susan," the film co-stars Michael Shannon and Armie Hammer.
Nocturnal Animals Teaser
Tomorrow, Focus Features will release the full trailer for Ford's sophomore effort behind the camera, but in the meantime, here's a quick preview:
The shots we see here have Ford's fingerprints all over them. Even the griminess we see in the teaser has a beauty to it — look at how Johnson's disturbed face and eyes are lit up — and that beauty might be enough to overcome a potentially thin story. Angie enjoyed the film at Toronto, appreciating it for its style and performances but finding it lacking in some areas:
Nocturnal Animals takes a few twists and turns as it unfolds, eventually revealing itself to be a revenge thriller of sorts. But once you've arrived at that destination, there's nowhere else for the movie to really go, thematically. Ford doesn't have anything especially new or interesting to say about the nature of vengeance or love, or the emptiness of material riches. But Nocturnal Animals has fun and looks damn good saying it. Maybe that's enough.
Ford doesn't seem like the kind of filmmaker that would only want to make an exercise in genre, but if Nocturnal Animals is little more than an exquisitely crafted revenge thriller as Angie wrote, then that, too, sounds exciting, considering it's a crime yarn coming from Tom Ford.
Here's the official synopsis:
From writer/director Tom Ford comes a haunting romantic thriller of shocking intimacy and gripping tension that explores the thin lines between love and cruelty, and revenge and redemption. Academy Award nominees Amy Adams and Jake Gyllenhaal star as a divorced couple discovering dark truths about each other and themselves in NOCTURNAL ANIMALS.
Nocturnal Animals opens in limited release November 18th before opening nationwide on December 9th.