'Crisis In Six Scenes' Trailer: Woody Allen's First TV Series Looks Like...a Woody Allen Movie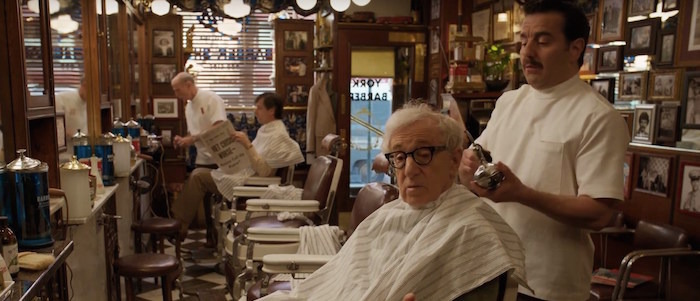 If anyone was wondering what a television series written and directed by Woody Allen would look like, all they have to do is look at the rest of the director's filmography. The first trailer for Crisis in Six Scenes, the new series he created for Amazon, could easily be mistaken for a preview of new Allen movie – it has self-deprecating jabs, a jazzy soundtrack, and that relaxed, slightly whimsical tone that has come to dominate so much of his later work. In other words, if the thought of a typical three-hour Woody Allen comedy spread across six chapters sounds appealing, this is the show for you.
Crisis in Six Scenes finds Allen (appearing in one of his own projects for the first time since 2012's To Rome With Love) playing Sidney Muntzinger, your typical neurotic suburban father figure grappling with all kinds of low-key crises in in the midst of the turbulent 1960s. His supporting cast includes Elaine May and Miley Cyrus, proof that Allen's knack for attracting a variety of performers to his projects survived in his leap between entertainment mediums.
Crisis in Six Scenes Trailer
Here's the trailer:
If the trailer feels more like a collection of one-liners and jokes than an actual preview, know that the official synopsis is also pretty vague:
Crisis in Six Scenes is a comedy that takes place in the 1960's during turbulent times in the United States and a middle class suburban family is visited by a guest who turns their household completely upside down.
There's no trendy hook or high concept here. There's a simplicity to the set-up of Crisis in Six Scenes that can't help but be appealing and the first teaser for the series revealed that this show would be built around the old school banter that has defined so many Allen pictures. Of course, Allen's recent output has been inconsistent at best, but movies like Midnight in Paris and Blue Jasmine have shown that he's still capable of creating impressive work.
In any case, Amazon likes the show enough to want a second season, even though Allen himself says these six episodes are a one-and-done affair. That didn't stop Amazon Studios head Roy Price from talking up the possibilities of a continuation at TCA last month:
That's something we have to figure out with Woody. We'll see how he feels and [what he] wants to do. He's busy because he does a movie a year, so it's hard. Normally he shoots a movie in the summer. Then he got this in right before it. I don't know that he'll always be able to do this schedule that way, because he also has to write too. I would do it.
Crisis in Six Scenes is set to arrive on September 30, 2016.