New 'Assassin's Creed' Images Feature A Michael Fassbender For All Occasions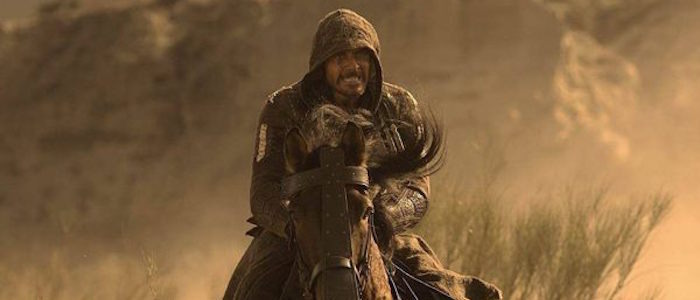 Despite the best intentions of everyone involved, Warcraft failed to break the dreaded video game movie curse a few months ago. Still, there's something to be said for a video game adaptation being an interesting and well-intentioned failure and not a raging garbage fire, as is often the default with this kind of movie. But with Warcraft disappearing into the horizon behind us, we must look forward to the next  movie that will hopefully change the fortunes of the video game adaptation: Assassin's Creed.
Honestly, it could go either way. Will a gallery of new images showcasing star Michael Fassbender in character change any minds? Probably not, even though it will remind you that a wacky science fiction/historical adventure from the director of 2015's Macbeth exists and is out in just a few months.
The new Assassin's Creed images have been assembled in the gallery below and it offers a hooded Fassbender for all occasions! Do you want a standing Fassbender? You've got options! Do you want a kneeling Fassbender? You're covered. How about a Fassbender astride his trusty steed or a Fassbender armed with a bow and arrow, doing his best Kevin Costner impression? Yep and yes. And if 15th century Spanish Fassbender isn't your cup of tea, there's always modern day Fassbender, strapped into some kind of pool as part of the experiment that is forcing him to relive his "genetic memories", the latest step in a secret war between two organizations that has been waging for centuries.
And that, non-gamers, is indeed the plot of the movie. The official synopsis will fill in the gaps for you:
Through a revolutionary technology that unlocks his genetic memories, Callum Lynch (Michael Fassbender) experiences the adventures of his ancestor, Aguilar, in 15th Century Spain. Callum discovers he is descended from a mysterious secret society, the Assassins, and amasses incredible knowledge and skills to take on the oppressive and powerful Templar organization in the present day.
Although Assassin's Creed is due out on December 21, 2016, things have been a little quiet ever since the first trailer arrived. We've seen other photos, behind-the-scenes featurettes, and, uh, other behind-the-scenes featurettes. Our own Jack Giroux visited the set and reported on what he saw. I remain very interested in what director Justin Kurzel is doing with this material – he obviously had a fruitful experience with Fassbender on Macbeth and he is an interesting choice for an expensive quasi-historical science fiction movie like this – but we're going to need more than another picture of Fassbender looking Inquisition-Chic. When's the next trailer arriving?
Oh, right. The gallery of new images. Here you go.